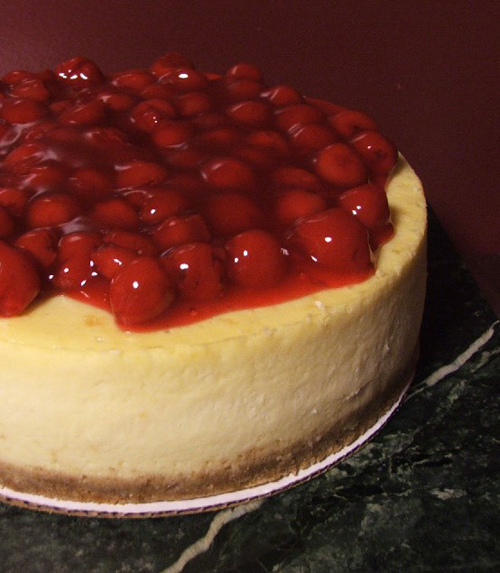 The urban flavors of this ultra-rich cheesecake remind me of my maternal grandmother. She loved Manhattan cocktails and lived in the Bronx all her life. And, our only family recipe is for her cream cheese press cookies. My mother made the cookies every Christmas until she realized that I could bake and, thankfully, passed the baton.
Cheesecake
2 cups graham cracker crumbs
1/2 cup unsalted butter, melted
1 cup plus 1 tablespoon sugar
2 (8 oz.) packages cream cheese, softened
3 eggs
1 1/2 cups sour cream
3 tablespoons bourbon
1 teaspoon sweet vermouth
Cherry Bourbon Sauce
2 (14.5 oz.) cans red, tart pie cherries, drained
1/2 tablespoon bourbon
1/3 cup sugar
2 tablepsoons fresh lemon juice
Mix together graham cracker crumbs, butter, and 1/4 cup sugar. Pat mixture in bottom and up sides of buttered 10-inch spring-form pan. Freeze covered 30 minutes.
Preheat oven 350F (175C). Set spring-form pan containing crust on a baking sheet.
Beat cream cheese and 3/4 cup sugar in a large bowl until fluffy. Add eggs, one at a time, beating until incorporated. Beat in 1 cup sour cream, bourbon, and sweet vermouth until thoroughly blended. Pour batter into prepared pan over crust.
Place baking sheet with pan in middle rack of oven. Bake 1 hour 15 minutes until cheesecake puffs up and knife inserted off-center comes out clean. Cheesecake center will continue to cook and become firm once removed from oven and cake will sink slightly as it cools. Place baking sheet with pan on wire rack. Cool to room temperature.
Mix together remaining 1/2 cup sour cream and 1 tablespoon sugar until blended.
Run a knife around edge of cake to loosen from pan. Release pan latch and remove pan collar. Spread an even layer of sour cream mixture over top of cheesecake. Place cheesecake on a large dish, and chill covered, for at least 2 hours.
To make Cherry Bourbon Sauce: Combine cherries, sugar, bourbon, and lemon juice in a medium saucepan. Cook, stirring occasionally, over medium heat until mixture thickens, about 8-10 minutes. Remove from heat and cool completely. Spread cooled Cherry Bourbon sauce in an even layer over top of cheesecake.
Cut cheesecake into individual wedges or place on a buffet and serve. Store covered in plastic wrap in the refrigerator for up to 1 week.
Makes 12 servings