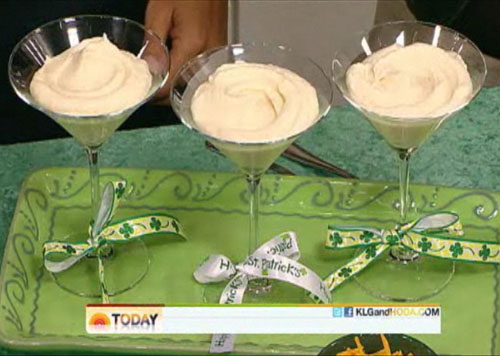 Mashed Potato Martini Bars have been a popular party station for years at Los Angeles events and elsewhere. Invidual servings of mashed potatoes are set out in Martini glasses and small bowls of toppings are placed nearby for guests to tailor-make their taters. The photos for this dish are from my St. Patrick's Day appearance on the TODAY show, with Hoda Kotb and guest co-host Olivia Munn, where I suggested mostly green toppings in honor of the holiday along with classic "the works" toppings.
4 large Yukon Gold potatoes, washed, peeled, cut into 1-inch cubes
3 tablespoons butter, softened
1/2 teaspoon salt
Pinch white pepper
1/3 cup heavy cream
Add potatoes to a stockpot and cover in water and 1 tablespoon salt. Bring water to a boil over medium-high heat and cook until potatoes are tender, about 15 minutes. Drain potatoes in a colander.
Transfer potatoes to a large bowl and mash until smooth. Add butter, salt, and pepper to potatoes and mash until butter is melted. Mash in cream until blended. Spoon into individual martini glasses and serve warm with small bowls of toppings on the side.
Serve with the following toppings:
Salsa verde, cilantro leaves, chopped scallions, chopped green tomatoes, chopped basil leaves, chopped cooked broccoli, sour cream, shredded Cheddar, chopped bacon
Makes about 4 to 6 servings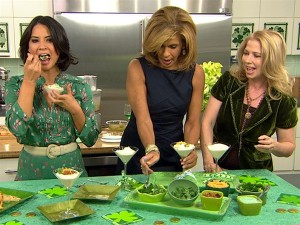 Check out the toppings display as myself, Hoda, and Oliva Munn munch loaded mashed potatoes! Yum!
More St. Patrick's Day Recipes & Ideas from the TODAY Show:
Mashed Potato Martini Bar
St. Patrick's Day Pizza
Irish Whiskey Balls (no-bake cookies)
St. Patrick's Day Cupcakes