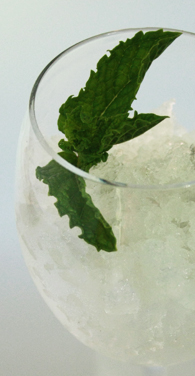 If there was ever a cocktail that was meant to be poured over shaved ice, it's the Mojito. I'm a big fan of HawaiianShavedIce.com for both their shaved ice machine as well as their sno-cone Machine. The prices are incredible, at the time of writing this each machine was just under $25, and the family that owns this business is awesome. Plus their flavored syrups are yummy.
2 cups water
2 cups granulated sugar
1 cup mint leaves plus mint leaves for garnish
Juice of 2 limes
1/2 cup rum
Shaved Ice
To make Mojito Syrup: Add water, sugar, and 1 cup mint leaves into a saucepan and heat over medium until sugar dissolves, about 5 – 10 minutes. Cool completely and remove mint leaves. Stir in lime juice and rum. Transfer into @12oz. glass soda bottle that can be fitted with a pour spout. Refrigerate up to 2 days until ready to serve.
When ready to serve, dispense shaved ice via shaved ice machine into a bowl, and then into a wine glass or serving vessel. Pour Mojito syrup ice in glass, garnish with mint leaves and serve ice cold.