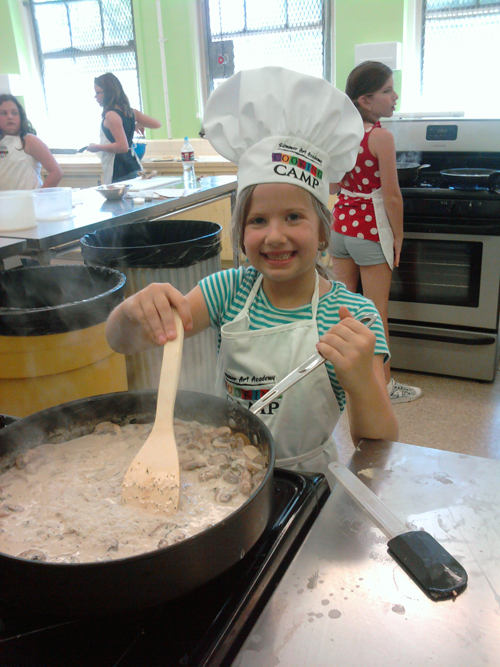 Forgive me, I'm going to brag. My 7-year-old daughter just finished a week of Summer Cooking Camp and she ROCKED! We have been enjoying her "homework" of Eggs Benedict, Bruschetta, Ham & Cheese Soufle', Homemade Pasta, and the extraordinary and beyond delicious crepes below that she made today!
This cooking class is under the kids' camp umbrella of the Summer Art Academy where my now 13-year-old son, Dylaneggs on Youtube, took cartooning and art classes for years. (Check out his animation – he rocks too!) Told you this was going to be a brag-a-thon!
I feel extremely fortunate that my kids have had the opportunity to foster their talents and hobbies in such a high-end environment, but I really have to give a shout-out to the brains and chief behind the camp, Dave the Big Cheese.  Here's the thing that really pulls at my heart-strings. This camp was held at a local public school. Dave went into the school and outfitted it with pro equipment for his summer cooking classses that have a weekly tuition. But during the school year, kids at this public school reap the benefits of the equipment and decor upgrades that Dave has facilitated. I get choked up just thinking about it. Anyway, if you've read my blog you know I'm really big on supporting schools and volunteering.
This Summer Art Academy Cooking Class was awesome, and Chef Theresa who taught the class – AMAZING – along with her chef assistants Edward and Cynthia. I mean, come on! A 7-year-old made these crepes…because every day that she walked through the door of this camp she was greeted like a restaurant patron, taught like a pro chef, and nurtured as if she was in her mother's kitchen.      
Savory Crepe Topped with a Mushroom Dill Cream Sauce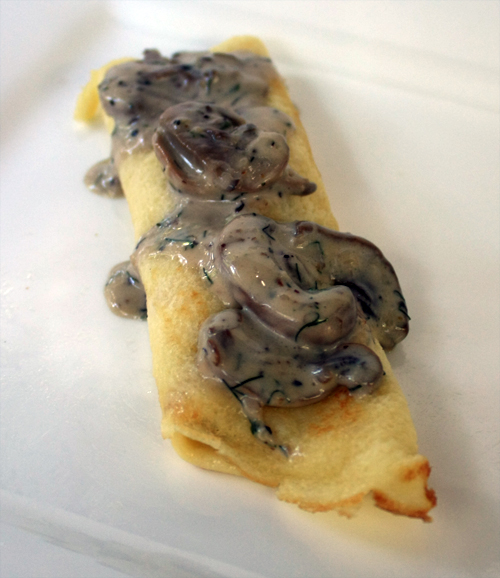 Dessert Crepe with Strawberries, Nutella, and Whipped Cream