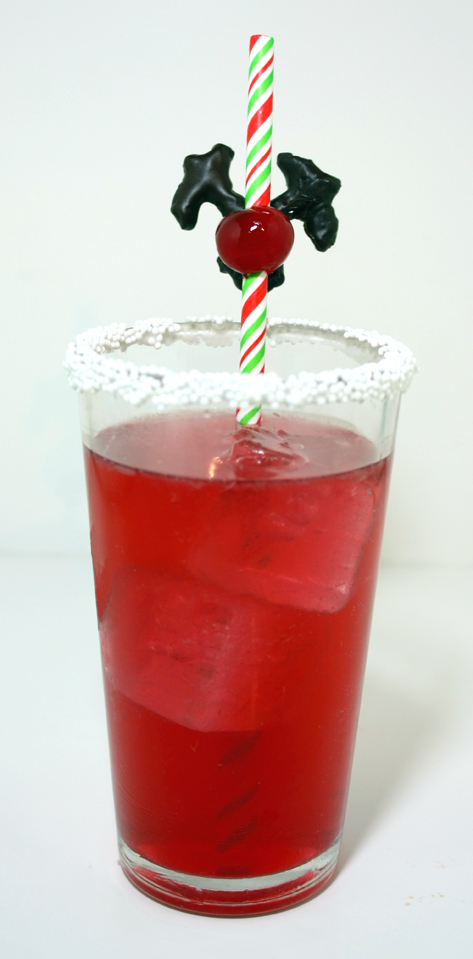 A holiday version of 2014's cocktail darling, the Moscow Mule, this rendition is a nod to Santa's star reindeer, Rudolph. A splash of grenadine tints the drink red and a crafty reindeer straw with pretzel antlers and a red cherry nose finish the quaff off along with a decked glass rim of holiday sprinkles. This cute cocktail is from my Christmas Eve TV segment on the Today Show (video here).
5 oz. alcohol-free ginger beer
1 ½ oz. vodka
Juice from ½ lime
1 tablespoon grenadine
Pour ginger beer into a tall glass over ice cubes and add remaining ingredients. Pop in a Reindeer Straw and give it a stir! To dress up the rim of the glass, mix 2 tablespoons powdered sugar with @3/4 teaspoon of water; it should be thick. Spread on rim of glass then dip in white non-pariels or holiday sprinkles.
To Make the Reindeer Straws:
Maraschino cherries
Mini pretzels
1 cup semi-sweet chocolate chips
½ teaspoon vegetable oil
Holiday paper party straws
1. Pick out the most perfectly round Maraschino cherries and drain them on paper towels, while wiping them completely dry; set aside.
2. Turn the mini pretzel upside down. Gently break off the 3 rounded arcs of the pretzel and you'll have your antlers. It kind of looks like the letter "Y" in a serif font.
3. Add chocolate chips and vegetable oil into a microwave-safe glass measuring cup and melt on defrost setting for 20 second increments until chocolate is slightly lumpy. Stir chocolate as it continues to melt on its own until smooth. Pour half of chocolate into a small bowl and cover remaining chocolate with plastic wrap. Dip pretzel antlers in bowl of chocolate and place on wax paper-lined plate. Put plate in freezer to set chocolate quickly; about 5 minutes. Remove from freezer.
4. Re-melt chocolate in measuring cup if necessary and spoon into a plastic pastry bag fitted with a #2 plain round tip. Line a cookie sheet with wax paper and place a row of chocolate antlers on it.
5. Slide a cherry on to a party straw through the top opening of the cherry. Determine the best side of the cherry for the front of Rudolph's nose. Carefully pipe a little chocolate into the cherry from the backside; this will keep the cherry from sliding down the straw. Pipe chocolate on the center part of the pretzel. Place the cherry on to the piped chocolate on the antler. Repeat with remaining ingredients and allow to fully set. Keep covered at room temperature until ready to use.