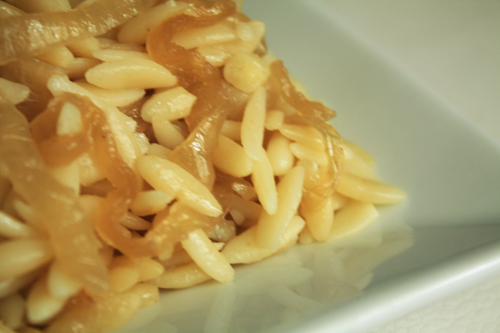 Orso, also known as riso and Rosa Marina is a rice shaped pasta. I prefer the lighter, smoother texture of orso to rice with most dishes. And, this recipe is great for dinner parties as you can make it ahead of time, keep covered in the fridge, and then microwave it just before serving.
3 tablespoons butter
1 large brown onion, coarsely chopped
1/4 cup brown sugar
5 cups water
1 teaspoon salt
1 teaspoon olive oil
1 1/2 cups orso
1/2 teaspoon salt
Melt 1 tablespoon butter in large skillet over medium-high heat. Add onion and cook, stirring occasionally, until translucent, about 5 minutes. Add brown sugar and remaining 2 tablespoons butter and cook, stirring occasionally, until sugar caramelizes, about 2 minutes.
Meanwhile, combine water, salt, and oil in a large pot and bring to a boil over high heat. Add orso and cook until tender, about 10 minutes. Drain in colander and pour into large bowl. Stir in caramelized onions and salt. Serve warm.
Makes 4 servings