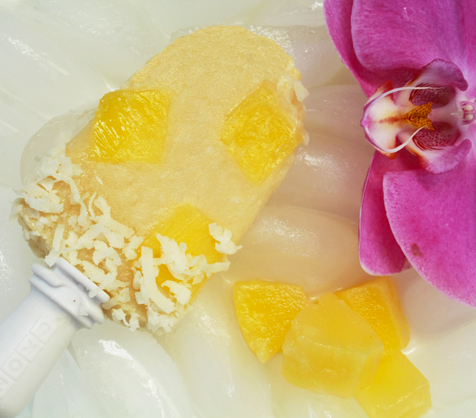 I'm sure I've said this before, but these are my favorites! We brought these Pina Colada Cocktail Pops to a dinner party the other night as dessert, and the host had 3 pops! I haven't shared these Popsicles on a TV appearance as yet, such as the TODAY Show segments I've done featuring potable pops like these, but I will very soon.
1 cup pineapple juice (canned)
5 tablespoons Coco Lopez Cream of Coconut
1/3 cup simple syrup (recipe below)
1 tablespoon sweetened flaked coconut
2 teaspoons dark rum
12 pineapple chunks
Zoku Quick Pop Maker (3 pop model)
Freeze Zoku Quick Pop Maker in the freezer overnight and read manufacturer's instructions completely.
Mix together pineapple juice, Coco Lopez, simple syrup, coconut, and rum until combined. Transfer to a container with a spout, such as a measuring cup.
Take Zoku pop maker out of freezer. Place a couple of pineapple chunks against each inside wall of the Zoku mold cavities using the plastic pop stick to help press them in place. Insert pop sticks in place and pour pina colada mixture to fill line. Allow mixture to freeze. (I usually put pop maker back into freezer to speed things up.)
When frozen, remove pops from the molds and place in plastic bags to put back into the freezer so the don't melt! Repeat the process to make 3 more pops. Enjoy immediately or keep frozen until ready to serve. When serving, keep Pina Colada Pops on top or inserted into a bowl of ice as they will melt quite quickly!
Makes 6 Cocktail Pops
Simple Syrup Recipe
1 cup granulated sugar
1 cup water
Add sugar and water into a small saucepan and cook over medium-high heat until mixture boils and sugar dissolves; about 5-8 minutes. Cool completely and transfer to a bowl. Cover and refrigerate until ready to use.