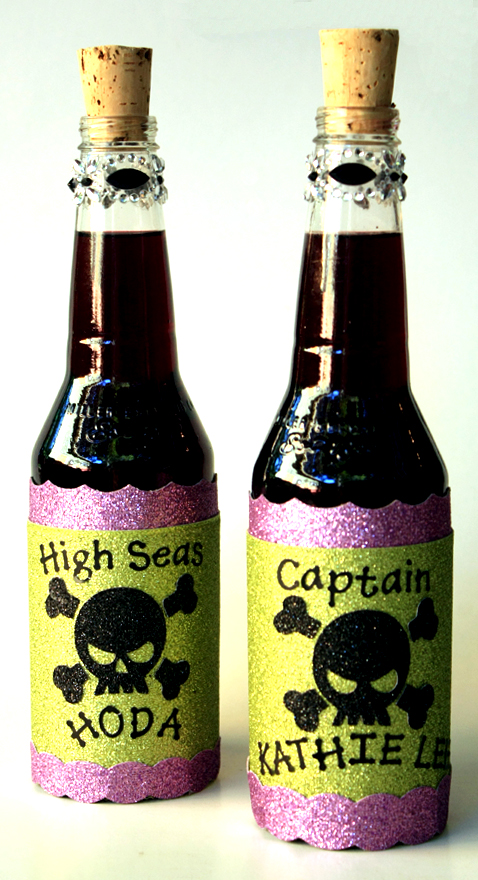 Since pirate Halloween costume parties are one of the most popular themes, a wine cocktail in individual size serving bottles with personalized labels, such as the Hoda & Kathie Lee glitter glam paper bottle corsets, are an ideal libation for the party!
1 bottle Cabernet Sauvignon (750 ml)
1 liter Sprite
Juice of 5 Navel oranges
1/4 teaspoon ground cinnamon
Combine ingredients in a large container. Use a funnel to pour into 12 oz. bottles; insert corks. Then, slide corsets on bottles.
Pirate Bottle & Paper Corset Instructions
Remove the labels from clear glass bottles. (I used 12 oz. beer bottles.) Use hot soapy water to rub off the remaining adhesive. Wash bottles in the dishwasher to clean them inside and out.
Choose heavy-weight designer scrapbook paper or cardstock for the bottle corsets. For each bottle, cut the paper into a rectangle to fit around the bottle; @8 1/2 X 3 1/2 inches. Punch a few holes along the 3 1/2-inch edges of the rectangle and wrap it around the bottle. Use black cord to lace up the corset at the back of the bottle.
I used a Cricut machine with the "Potpourri Basket" Cartridge set at 1 ½ inches to make the pirate skull & cross bones. I used letter stickers to personalize the corsets with Hoda & Kathie Lee's names and adhesive rhinestone strips accent the bottle necks. You can buy the corks at the craft store!