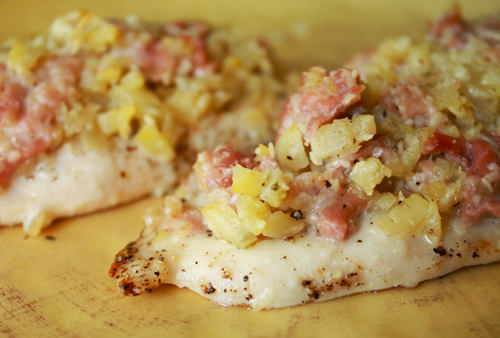 This recipe and the following headnote is from my book, "Sophisticated Entertaining." My dear friend Susan Budd heard I was writing this book and told me of a delicious dish her mother makes where Prosciutto is wrapped around chicken.  Tagliati means chopped in Italian as the ingredients topping the chicken are prepared in this manner.   The powerful flavors of salty ham and zesty artichoke are a brilliant combination.
3 oz. thin sliced Prosciutto, finely chopped
1 cup canned (marinated in water) artichoke hearts, finely chopped
2 cloves garlic, minced
1/2 cup fresh grated Parmesan
2 tablespoons dry vermouth
2 tablespoons fresh lemon juice
1 tablespoon olive oil
1 1/2 teaspoon salt
1 1/4 teaspoon pepper
4 boneless, skinless half chicken breasts, fat trimmed
Preheat oven to 325F (160C).  Grease baking sheet with 1 tablespoon olive oil.
Mix together Prosciutto, artichoke, garlic, Parmesan, vermouth, lemon juice, oil, 1/2 teaspoon salt and 1/4 pepper until combined.
Rub remaining salt and pepper on chicken breasts.  Place chicken on prepared baking sheet.  Spread Prosciutto artichoke mixture in an even layer over top of chicken breast.
Cook for 30 minutes until chicken center is no longer pink.  Remove from heat and serve hot.
Makes 2 to 4 servings