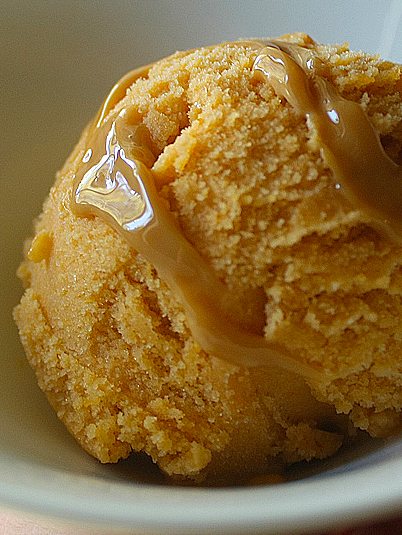 Dulce le leche, a soft caramel made by slowly heating milk and sugar, is absolutely magnificent paired with the autumn flavors of pumpkin, brown sugar, and bourbon! To balance the gooey wisps of caramel in this spiked dessert, I decided to go with a sherbet as opposed to an ice cream as sherbet is, basically, ice milk, and ice cream is a frozen custard with eggs in the mix. Though I made this for a Halloween segment on the Today Show, my Pumpkin Bourbon Dulce Le Leche Sherbet would be excellent for Thanksgiving.
1 (14 oz.) can sweetened condensed milk (divided)
1/2 cup granulated sugar
1 1/2 cups milk
1 (15 oz.) can Libby's pure pumpkin (divided)
3 tablespoons golden brown sugar
3 tablespoons bourbon
Dulce Le Leche (recipe below)
Add 1/4 cup sweetened condensed milk into a medium saucepan along with granulated sugar, milk, and pumpkin. Heat over medium heat, stirring often, until mixture is hot and ingredients are combined, but do not allow to boil. Remove from heat and stir in brown sugar and bourbon. Cool to room temperature, then cover and refrigerate for 8 hours.
Pour cooled pumpkin sherbet batter into ice cream maker and process according to manufacturer's instructions. Layer pumpkin sherbet with swirls of dulce le leche into a plastic container with a lid and freeze for at least 2 hours before serving.
Makes about 6 to 8 servings
Dulce le Leche
Sweetened Condensed Milk
Preheat oven to 425 degrees. Place remainder of sweetened condensed milk from recipe above (or contents of an entire 14 oz. can) into a 6-inch square casserole dish (or something similar) and cover with foil. Place covered dish in a metal baking pan and fill pan with water halfway up outside of casserole dish. Bake for 1 hour 30 minutes. Carefully lift foil (it will be steamy!) and check the milk's color. If the milk has caramelized into a medium brown, carefully remove from the oven. If more baking time is needed, cook for 15 minutes more and then remove from heat. Cool to room temperature and add to the Pumpkin sherbet as instructed above or use as a dip for everything from apples to pretzels!