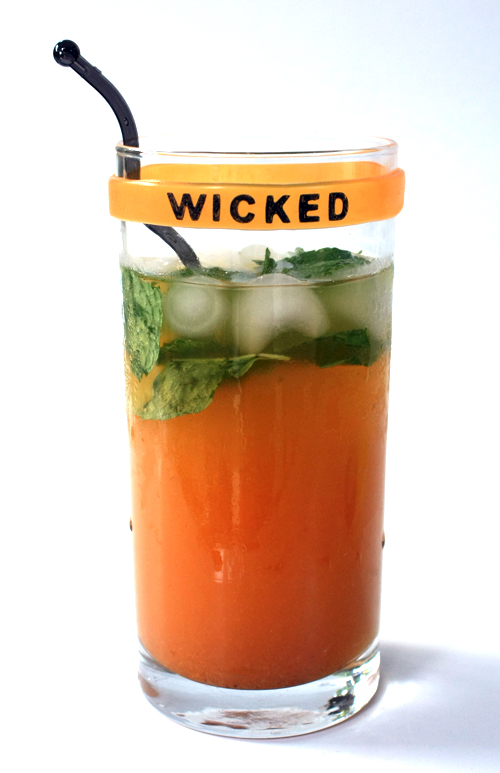 This is a classic mojito concocted with homemade pumpkin syrup in a tall glass. Easy Halloween party favor accents, such as a witch finger on a cocktail stir stick or a Halloween rubber wristband around the glass makes the cocktail festive & freaky!  
6 – 8 mint leaves
1 1/2 oz. light rum
Splash of lime juice (about 1/2 teaspoon)
3 oz. pumpkin syrup (recipe below)
Club Soda
Pumpkin Syrup
1 cup sugar
1 cup water
1/2 cup pumpkin puree (canned)
Prepare pumpkin syrup first: Stir together sugar, water, and pumpkin puree in a medium saucepan, and cook over high heat until puree has dissolved and mixture just boils; about 3 to 5 minutes. Cool completely and refrigerate until ready to serve. Pumpkin syrup can be made the day before it will be used.
To make the Pumpkin Mojito: Add juice, mint, and rum into a tall glass. Crush mint using the back of a spoon or a muddler until liquid is light green, then pour in pumpkin syrup. Add ice cubes to fill half of the glass. Add club soda to where glass is 3/4 full and stir. For an easy Halloween accent, slip a rubber wristband with a word like "freaky" or "spooky" around glass like the one pictured which I got from Party City.