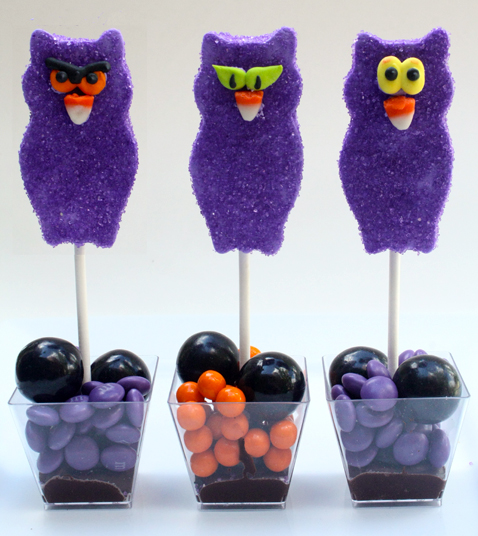 These purple pops couldn't be cuter, and they are really easy to make. Consider a Halloween treat like this for a school holiday party!
1/2 cup cold water
3 (1/4 oz.) packets Knox unflavored gelatin
2 cups granulated sugar
3/4 cup corn syrup
1/3 cup water
Purple gel food coloring
Purple sugar
Spooky Candy Eyes from Fancy Flours
Candy corns
White frosting
Lollipop sticks or cookie batons
Line the bottom and sides of a cookie sheet with plastic wrap and spread margarine over it.
Add 1/2 cup cold water into a large bowl. Sprinkle gelatin over and let stand to fully dissolve, about 5 minutes.
Meanwhile, add sugar, corn syrup, and remaining 1/4 cup water into a small saucepan. Heat over medium-high heat until mixture boils. Immediately add sugar mixture to dissolved gelatin in bowl and beat on high speed for 10 to 12 minutes until mixture turns fluffy and solid white.  Mix in purple food coloring to desired color, but be sure to taste test so you don't get that icky food coloring taste!
Pour the mixture into the prepared pan and spread into an even layer using a buttered offset spatula. Allow to set at room temperature for at least 2 hours.
Spread margarine on an owl cookie cutter and stamp out marshmallow owls. Coat each owl with purple sugar. Use a dab of white frosting to stick on the owl's spooky eyes and the tip of a candy corn as his beak.
Dip the tips of lollipop sticks into margarine, and insert sticks into marshmallows. To serve vertically, insert marshmallow pop into a container of candy (pictured).