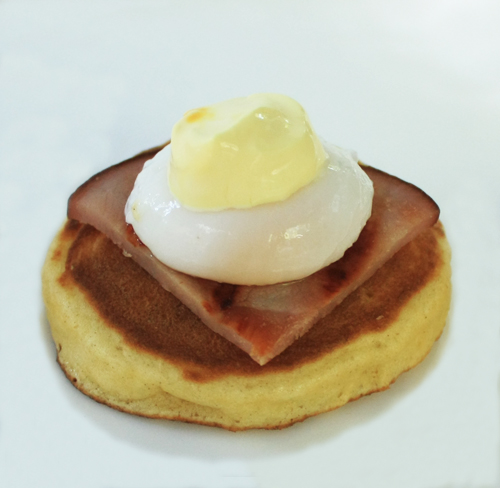 Given that my surname is Benedict, and I have a passion for French sauces, Eggs Benedict is an oft requested dish from my family, in-laws, friends, etc…. I absolutely love a classic Eggs Benedict, but this variation with quail eggs and blini is our family's traditional Father's Day breakfast and for my connoisseur husband, I prepare many bites such as this Trio of Blinis, which includes caviar, smoked salmon and other indulgences worthy of an incredible dad! I recommend reading this entire and yes, overly detailed recipe throughly before starting so you can be fully prepared.
Hollandaise Sauce
4 large egg yolks
1/2 cup butter (8 tablespoons)
2 – 4 teaspoons lemon juice
1/8 teaspoon coarse salt
Sour Cream Buttermilk Blini Pancakes
1/2 cup all-purpose flour
1 teaspoon sugar
1/8 teaspoon salt
1/2 teaspoon baking soda
1 large egg
1 large egg yolk
1/4 cup sour cream
2 tablespoons buttermilk
1 (6 oz.) package Canadian Bacon
16 – 20 Quail Eggs
To make Hollandaise Sauce: Bring a small sturdy pot of water to a simmer over medium heat. Whisk together yolks for 30 seconds to break them up in a small stainless steel bowl. Add 3 tablespoons of butter. Put on an oven mitt and hold the bowl over the pot of simmering water while slowly whisking constantly. (Be careful not to let the bowl touch the pot of water as the eggs may scramble, and then you will have to start all over again.) After about 5 – 10 minutes, the egg yolks will thicken up and the sauce will turn to a pale yellow color. Remove from heat and immediately whisk in remaining 5 tablespoons of butter until sauce is smooth. Stir in 2 – 4 teaspoons of lemon juice, depending on how "bright" you want your sauce to taste, and salt. Set aside and make the blini pancakes.
To make blinis: Sift together dry ingredients in a large bowl.  In another bowl, whisk egg, yolk, sour cream, and buttermilk until blended. Lightly whisk egg mixture into dry ingredients until just combined keeping the batter a little lumpy. Allow batter to rest for a couple of minutes so the baking soda can activate and bubble a bit.
Lightly oil a nonstick skillet and heat over medium-low heat. Drop batter by the tablespoon into the skillet and cook for about 1 to 2 minutes until lightly browned on the bottom. Flip with a spatula and cook until other side is lightly browned. Remove pancakes from skillet and arrange on a serving platter. Cook up the remaining batter and lightly oil skillet for each batch.
To prepare Canadian bacon: Slice bacon into 1/8-inch thick rounds or purchase pre-sliced Canadian bacon (my preference!). Heat bacon in a nonstick skillet over medium-high heat until both sides are lightly browned. Remove from heat and cut bacon rounds into quarters, so you make 4 triangles per round. Place a Canadian bacon triangle on each blini pancake.
To prepare Quail Eggs: Fill a medium saucepan halfway with water and bring to a boil. Gently tap an end of the quail egg on the side of a bowl or edge of the countertop. Use your fingers to carefully tear away enough of the shell so the egg can easily pour out, taking care not to rupture the yolk inside. (You may want to prep all eggs and keep them "broken shell side up" in their container so you can be expedient during the cooking process.) Empty about 4 eggs into saucepan of boiling water and very gently swirl the water with a spoon to keep the egg from resting on the bottom. Poach for 1 – 2 minutes until yolks are warmed and egg white is cooked around yolks. Remove eggs with a slotted spoon and set on top of Canadian bacon triangle on blini.  
(I try to poach about 4 quail eggs at a time and remove the excess cooked egg white from the water after each batch. They cook quickly and you want the yolk to remain liquid as opposed to soft-boiled. Also, when the yolk breaks the egg is no longer usable, hence the 16 – 20 quail egg count in the ingredient list.)
Top quail eggs with a Hollandaise sauce and serve immediately.
Makes about 12 – 16 blinis