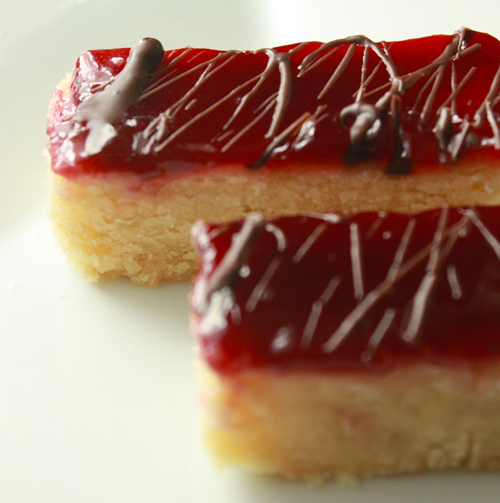 This recipe and the following headnotes are from my first book, "The Sophisticated Cookie."
I've never cared for raspberry filling in between the layers of a cake, but a sheer raspberry glaze on a rich frangipane crust with a chocolate accent is the height of elegance. The secret to creating the thin wisps of chocolate in a zigzag design is all in the wrist. Think of the quick wrist motion when you beat eggs with a fork, but instead of making quick circular motions, move your wrist back and forth as if you were dealing a deck of cards. The quicker the motion, the thinner the line of chocolate. Also, you may not wish to use all of the chocolate called for in the recipe. I prefer a delicate design gracing the top of the raspberry glaze as opposed to an equal amount of each. It's all a matter of taste.
1 cup unsalted butter
3 1/2 oz. almond paste (1/3 cup, packed)
1/2 cup powdered sugar
2 cups all-purpose flour
Raspberry Glaze
1/2 cup red raspberry jam
1 tablespoon water OR Royale Chambord Liqueur de France
Chocolate Zig Zag Accent
1/4 cup semi-sweet chocolate chips
2 tablespoons unsalted butter or vegetable oil
Preheat oven to 350F (175C). Lightly spray an 8 x 8-inch baking pan with a non-stick cooking spray. Add butter and almond paste into a mixing bowl and beat until creamy. Beat in sugar until smooth. Add flour and beat until combined. Pat dough in an even layer on bottom of prepared pan. Bake for 15 minutes.
Meanwhile, make Raspberry Glaze. Heat raspberry jam and water or Chambord in top of a double boiler, stirring occasionally, until jam melts into liquid. Remove from heat.
Remove cookies from oven and immediately pour glaze in an even layer over top surface. Cool to room temperature or until glaze sets.
To make Chocolate Zig Zag, melt chocolate and butter in top of a double boiler, stirring constantly, until smooth and combined. Dip a knife tip in the melted chocolate. Hold the knife 2 inches above the glazed surface. Quickly drizzle chocolate across glaze in a zig zag motion. Repeat process until a desired pattern is achieved. Allow chocolate to set. Cut into 1×3-inch bars (as pictured) or 2×2-inch squares. Store in an airtight container in the refrigerator.
Makes about 12 – 16 cookies