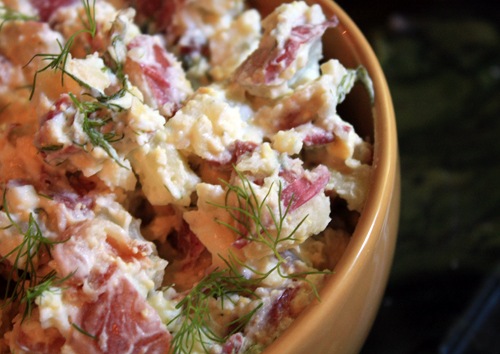 We are a house of blue or bleu cheese lovers! This potato salad is packed with a party of saltiness from the chopped bacon to the cheese.
2 lbs. baby red potatoes
8 cooked strips bacon, coarsely chopped (1 cup)
3 large hard-boiled eggs, finely chopped (1 cup)
5 oz. crumbled blue cheese (1 cup)
1/4 cup fresh dill, chopped
5 tablespoons sour cream
3 tablespoons mayonnaise
1/2 teaspoon coarse salt
Cut potatoes into 1/2-inch chunks and add potatoes to a pot along with a teaspoon of coarse salt. Fill pot with enough water to cover potatoes and bring to a boil for 20 to 25 minutes until potatoes are fork tender. Drain potatoes in a colander and cool to room temperature.
Add bacon, eggs, blue cheese, and dill to potatoes and stir. Whisk together sour cream and mayonnaise, and stir into potato mixture until combined. Taste and season with coarse salt, adding more or less as you desire. Cover and keep refrigerated until ready to serve.
Makes about 7 cups