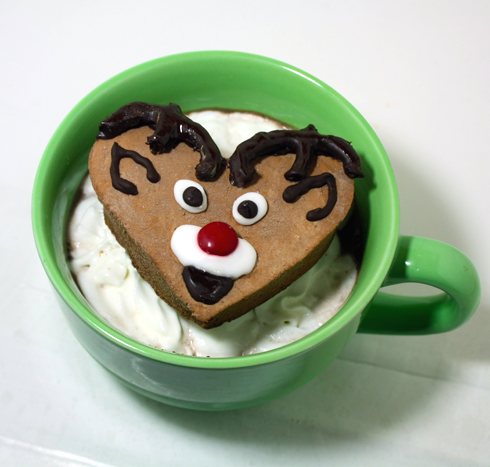 Wow the kids, and maybe the big guy in red 🙂 on Christmas Eve with a gingerbread flavor marshmallow designed to look like a reindeer. These treats  are "mug floats" on top of hot cocoa.  I made these for my Today Show Christmas Eve Cocktails and Mocktails episode with Hoda and Kathie Lee (watch it here).
1/2 cup cold water
3 (1/4 oz.) packets Knox unflavored gelatin
2 cups granulated sugar
3/4 cup corn syrup
1/4 cup water
2 teaspoons ground ginger
¼ cup unsweetened cocoa powder, plus 1 tablespoon more for dusting
½ teaspoon ground cinnamon
Mini pretzels
1 cup semi-sweet chocolate chips
½ teaspoon vegetable oil
1 egg white
1 ½ cups powdered sugar plus 2 tablespoons more for dusting
Red M&M candies
Pastry bag with writing tip
Hot Cocoa with Whipped Cream!
Line the bottom of an 8-inch square dish or similar size pan with plastic wrap and butter it.
Add 1/2 cup cold water into a large bowl. Sprinkle gelatin over and let stand to fully dissolve, about 5 minutes. Meanwhile, add sugar, corn syrup, remaining 1/4 cup water, ginger, ¼ cup cocoa powder, and cinnamon into a small saucepan. Heat over medium-high heat until mixture boils. Immediately add sugar mixture to dissolved gelatin in bowl and beat on low speed for 3 minutes, then high speed for 5 – 7 minutes more until mixture turns fluffy.
Pour mixture into prepared pan. Allow to set at room temperature for at least 2 hours.
Remove marshmallow slab from pan by lifting plastic wrap and place on counter. Lightly spray heart-shaped cookie cutter with non-stick spray and stamp out 6 hearts. (Clean and re-spray cutter with non-stick coating as needed.) Note: Make sure your heart-shaped cookie cutter fits inside your mugs. I used a 3 1/2-inch wide cutter and oversize mugs! A smaller cookie cutter will affect the reindeer features, for example the antlers may appear larger on a smaller heart, but he will still be very cute! Sift together remaining 1 tablespoon cocoa powder and 2 tablespoons powdered sugar and dust marshmallows to take the stickiness out of them. Cover with plastic wrap until ready to use.
To make antlers: Gently break mini pretzel in half and continue to break away bits until it looks like a capital "E". Or, break the pretzels however you want to make your own unique antlers! Add chocolate chips and vegetable oil into a microwave-safe glass measuring cup and melt on defrost setting for 20 second increments until chocolate is slightly lumpy. Stir chocolate as it continues to melt on its own until smooth. Pour half of chocolate into a small bowl and cover remaining chocolate with plastic wrap. Dip pretzel antlers in bowl of chocolate and place on wax paper-lined plate. Put plate in freezer to set chocolate quickly; about 5 minutes. Remove from freezer.
Re-melt chocolate in measuring cup if necessary and spoon into a plastic pastry bag fitted with a #2 plain round tip. Refer to the photo for the reindeer design. Pipe chocolate on back of antlers and place on to top curved part of marshmallows. Pipe chocolate ears and mouth on reindeer's face.
The white parts of the reindeer's features are made with royal icing. Beat egg white until frothy. Add 1 cup powdered sugar and check consistency; should be thick and not too runny. Add remaining ½ cup powdered sugar if necessary. Spoon icing into a plastic pastry bag fitted with a #5 plain round tip. Pipe on reindeer's nose and eyes. Place red M&M on nose. When eyes are set, pipe chocolate pupils on top. Cover reindeer marshmallows with plastic wrap.
When ready to serve, pipe or dollop whipped cream on hot cocoa and set reindeer marshmallows on top!