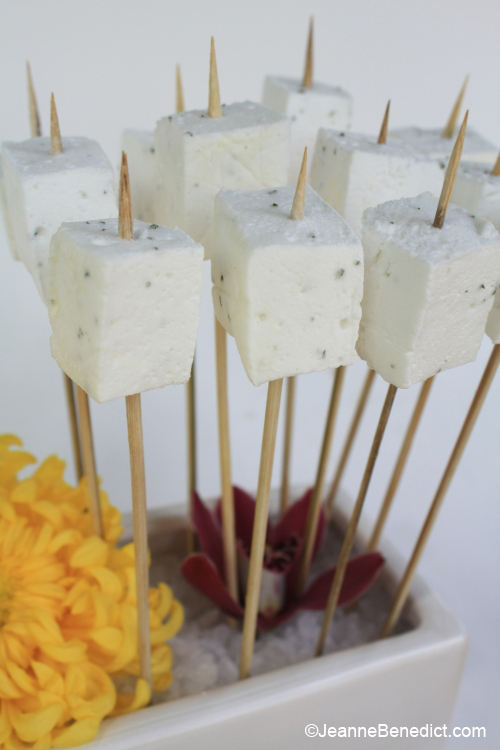 I'm a big fan of savory-sweet combinations, and friends let me tell you, this recipe is a slam-dunk winner. I was inspired to make these Rosemary Marshmallows after reading a post on Chef Garrett Kern's blog, Garrett's Table. This recipe is his with my addition of the rosemary. I served them on bamboo skewers alongside a tabletop grill (about the size of a flower pot) for guests to toast up. Since we're sharing…I also made a saffron version….not so good. I plan to make similar marshmallows with fresh mint and possibly lavendar as the herbaceous-sweet thing just rocks in this format.
Rosemary Marshmallows
1/2 cup cold water
3 (1/4 oz.) packets Knox unflavored gelatin
2 cups granulated sugar
3/4 cup corn syrup
1/3 cup water
2 tablespoons finely minced rosemary needles
Powdered sugar
Line the bottom and sides of a deep baking dish with plastic wrap and butter it. An 8-inch square dish or pan is nice if you want thick marshmallows.
Add 1/2 cup cold water into a large bowl. Sprinkle gelatin over and let stand to fully dissolve, about 5 minutes. Meanwhile, add sugar, corn syrup, remaining 1/4 cup water, and rosemay into a small saucepan. Heat over medium-high heat until mixture boils. Immediately add sugar mixture to dissolved gelatin in bowl and beat on high speed for 10 to 12 minutes until mixture turns fluffy and solid white. (In fact, it should billow up beautifully on to your beaters, so you'll have no choice but to stop mixing!)
Pour the mixture into the prepared pan and spread into an even layer using a buttered offset spatula. Allow to set at room temperature for at least 2 hours.
Dust a cutting board or sheet of plastic wrap on the counter with powdered sugar. Unmold marshmallow slab onto the cutting board and lightly dust top surface with powdered sugar to take the stickiness out of it. Butter a sharp knife and cut into desired size cubes; repeat buttering as needed to cut all marshmallows. Insert bamboo skewers into marshmallows and serve with a vertical presentation, as I did by inserting the non-pointed end of the skewers into rock salt that was in a container (pictured).