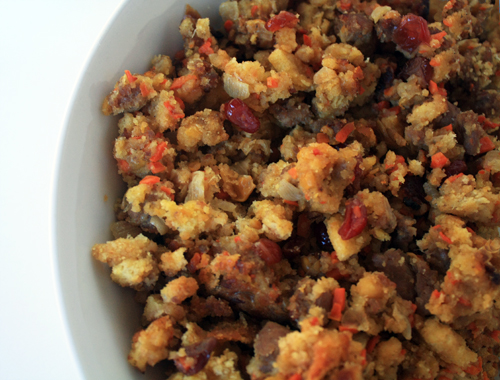 Not being huge fan of celery, I am forever on the look out for stuffing recipes that omit this staple ingredient. I also find that turkey sausage blends nicely with the sweeter flavors of cherry and creamed corn, rather than the pork sausage. This recipe is my little brother Danny's favorite new dish year round. This recipe is featured in Toasty Thanksgiving Menu and Table Decor for 6 Guests.
3/4 cup dried cherries
3/4 cup rum
3/4 cup butter
1 large brown onion, coarsely chopped
3 medium carrots, coarsely chopped
1 (12-oz.) package cornbread stuffing
1 lb. turkey sausage
1 (15-oz.) can creamed corn
1 tablespoon anise seed
1 cup chicken broth
1 teaspoon salt
1/2 teaspoon pepper
Soak cherries in rum overnight. Drain cherries and reserve rum.
Melt 1/2 cup butter in a large skillet over medium-high heat. Add onion and carrots and cook until just tender, about 8 minutes. Add reserved rum and cherries and cook over medium-high heat until liquid reduces completely. Remove from heat and transfer to a large bowl. Stir cornbread stuffing until combined.
Remove sausage from casings and crumble into a large skillet. Cook over medium-high heat until browned. Add sausage, creamed corn, and anise seed to stuffing and mix well.
Melt remaining 1/4 cup butter and add to chicken broth. Stir into stuffing until thoroughly moistened. Season with salt and pepper.
Stuff mixture into body cavity and neck of turkey. Place left over stuffing in baking dish and bake at 350F (175C) for 15 minutes or until top is crusty. When turkey is done, remove stuffing from bird before carving and spoon into serving dish.
Makes 8 cups
Note: Stuffing may be made 1 day in advance if stored in an airtight container in the refrigerator. Stuff the bird just before cooking.