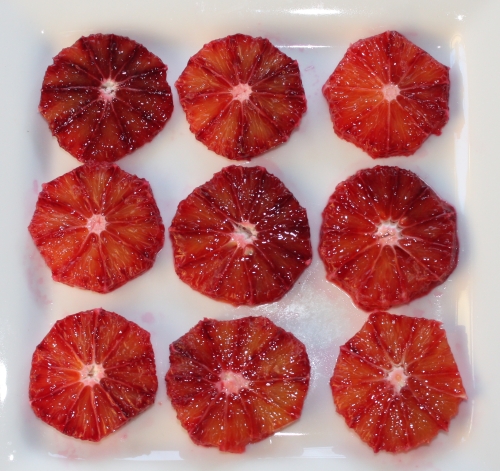 Blood oranges are such a gorgeous color! My neighbor dropped a bag of these gems on my doorstep the other day and I just had to make something. So, I picked up a duck from Whole Foods and created a belated Valentine's Day dinner for my husband. The oranges are sauteed in brown sugar and butter with a nice bit of salt to really make all the flavors pop. I served it with black sticky rice and it was superbly completed with a Trefethen Chardonnay.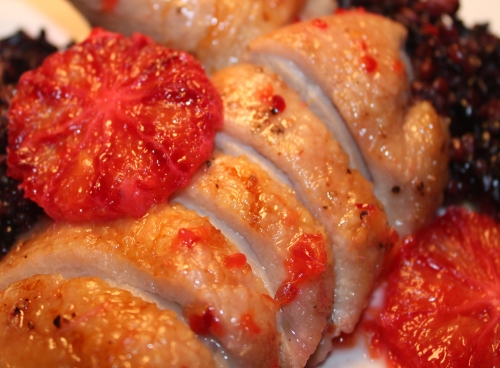 Sauteed Blood Oranges on Roast Duck
1 (5lb.) whole duck
1 blood orange, cut in half
1 tablespoon olive oil
1 teaspoon salt, divided
1 tablespoon butter
1 tablespoon brown sugar
2 blood oranges, peeled, sliced into 1/4-inch rounds
Thaw duck overnight in refrigerator or in cold water. Allow duck to sit at room temperature for 30 minutes before prep and roasting for best results of evenly cooked meat.
Preheat oven to 400 degrees.
Remove plastic wrapping on duck. Remove neck, liver, and gizzards from body cavity. Cut duck along the breast bone to open it up but don't cut through the backbone. Rinse duck, thoroughly cleaning skin and underside, and pat dry. Place duck flat, skin side up, in a roasting pan and prick skin with a fork trying not to pierce the meat underneath.
Squeeze the juice of the 1 orange that is cut in half over the duck. Sprinkle the olive oil and then 1/2 teaspoon of salt over duck.
Cook duck for about 1 hour, removing fat from pan as it accumulates every 15 minutes using a baster. Duck is done when skin is golden brown and a fork inserted into breast yields juice that is light rosy pink for medium rare or clear for more well done meat.
Melt butter in a large skillet over medium heat. Stir in sugar and remaining 1/2 teaspoon salt until combined. Add sliced orange rounds and cook, gently swirling the oranges, for about 5 minutes. Oranges should caramelize a little and their juice will make a nice light sauce in the pan; remove from heat.
Carve duck into 2 servings and for each one: Cut off leg and thigh as one piece, cut off wing, remove breast meat as a whole from bone and then slice on the diagonal. Arrange pieces on individual plates and place sauteed blood orange slices on top. Spoon blood orange juice over the duck and serve warm.
Makes 2 servings