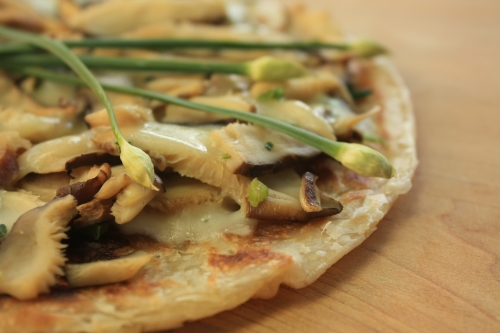 On my last post, I wrote about Off-Beat Fruit with some shots of exotic beauties that I picked up from a local Asian Market. I also purchased ingredients to make this pizza with a paratha bread base. Paratha bread is most commonly seen in Indian restaurants and when I saw a frozen version in the store this recipes idea came to mind. The pizza is topped with a simple Shitake mushroom saute' and garnished with gorgeous chive blossoms, which are simply chives with flower buds on the tips. Enjoy and thanks for sticking with me between now and the last post while I got my new blog up and running. ~ Jeanne
Shitake Paratha Pizza
2 cups Shitake mushrooms, thinly sliced
Butter
Olive oil
1 tablespoon minced chives
1/2 teaspoon each salt and pepper
2 frozen paratha shells (about 8-inch diameter)
1 cup shredded provolone cheese
8 chive blossoms for garnish
Melt 2 tablespoons butter and 1 teaspoon oil in a large skillet over medium-high heat. Add mushrooms and minced chives and saute until tender, about 8 minutes. Season with salt and pepper and remove from heat.
Wipe skillet clean and melt 1 tablespoon butter and 1 tablespoon oil in skillet over medium-high heat. Add 1 paratha and cook until golden brown on bottom, about 3 – 5 minutes. Flip paratha and cook until other side is golden brown. Remove from skillet on to a bed of paper towels and cook remaining paratha adding more butter and oil into the skillet.
Scatter 1/4 cup cheese on top of each paratha and then 1 cup cooked Shitake mushrooms. Top with remaining 1/4 cup cheese on each pizza over mushrooms. Heat oven to 350 degrees. Place pizzas on a baking sheet and heat in oven just until cheese melts, about 3 to 5 minutes.
Remove from oven and cut each pizza into 6 wedges. Top each pizza with chive blossoms and serve.
Each pizza makes about 1 serving