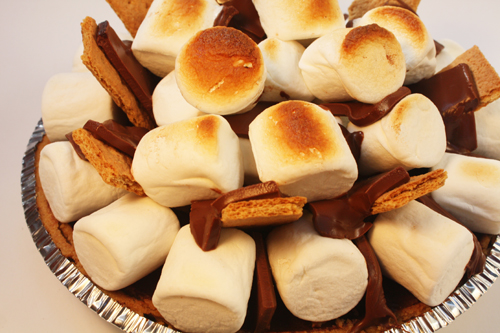 This easy S'mores Pie no-bake recipe was hands-down the most popular one I shared on my Today Show appearance with Kathie Lee and Hoda. Hoda referred to them as "sweet nachos!" Send me a photo of yourself with this pie if you make it at home and I'll post it on my blog!  
1 (5.9 oz.) box Jello chocolate instant pudding & pie filling
2 cups heavy cream
1/2 cup milk
1 (9-inch) graham cracker crust in pie tin
30 marshmallows
4 Milk Chocolate Bars
4 graham crackers
Prepare chocolate instant pudding and pie filling according to instructions on Jello box, using 2 cups of heavy cream and 1/2 cup of milk for a thicker texture. Pour mixture into prepared graham cracker crust and chill in the refrigerator until set; about 1 hour.
Arrange marshmallows, chocolate bar pieces, and graham cracker pieces on top of pie. Heat broiler on high and place rack in the middle of oven. Set pie on rack and broil for 30 seconds, watching the whole time, until marshmallows are lightly browned.  Remove from heat and serve!
Makes about 8 to 12 servings