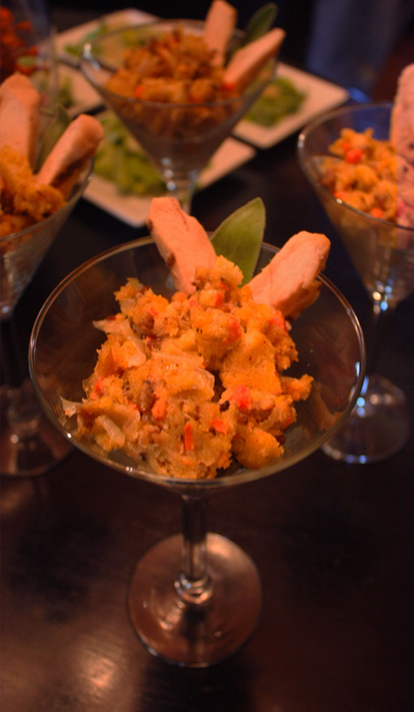 I'm gearing up for Thanksgiving, and my go-to cornbread stuffing, actually the only cornbread stuffing I've found on California grocery shelves for years, is Mrs. Cubbison's! The recipe below is from a Mrs. Cubbison's website Thanksgiving Tips where you'll find some great information to make your Thanksgiving Holiday its very tastiest. And the photo of the stuffing in the Martini glass is from a Penguins and Pinecones Cocktail Party I put together on behalf of Mrs. Cubbison's for an upcoming ABC Eye on LA Holiday Segment. Here's a sneak peak of the cute tabletop! 
Mrs. Cubbison's Apple and Sausage Cornbread Stuffing
Servings: 10
Prep Time: 30 min
Cook Time: 45 min
Ingredients
2 6-ounce packages of Mrs. Cubbison's Seasoned Corn Bread Stuffing
1 pound; Pork Sausage Links, thinly sliced
1 each; Granny Smith Apple, peeled, cored, chopped
1/2 pound; Mushrooms, fresh, sliced
1 cup; Celery, chopped
1 cup; Onion, chopped
2 each; Garlic Cloves, chopped
Salt and Pepper to taste
Method
Preheat oven to 350°F(175°C).
Prepare stuffing mix according to package directions. Cool and crumble.
Place sausage in a large, deep skillet. Cook over medium high heat until evenly brown; stir in mushrooms, celery, onion and garlic until soft.
In a large bowl, mix prepared stuffing mix, sausage and mushroom mixture, apple, salt and pepper.
Transfer mixture to medium baking dish. Bake in preheated oven 45 minutes until lightly browned.