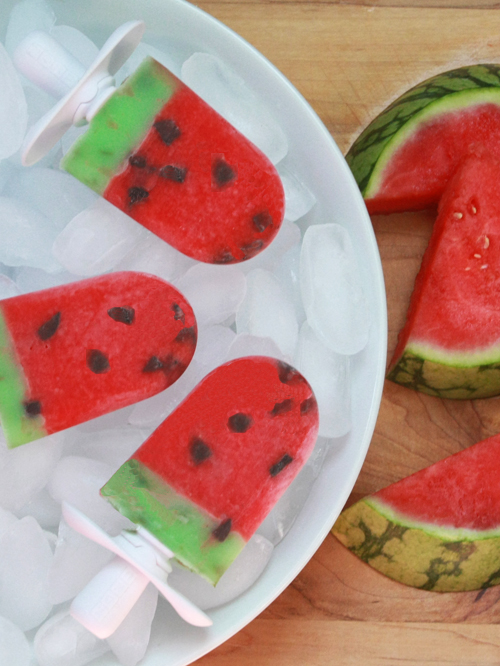 I have been wanting to make a watermelon ice pop for quite some time. With August approaching, we're heading into the last month of summer. But, there's still plenty of time for picnics or just hanging out on the porch swing enjoying these icy treats! I wanted these to resemble a watermelon so I just used what was in my kitchen to create the green rind: lemonade and green food coloring. Use your imagination to get the right look if you don't have all these ingredients on hand.
1 cup watermelon
1 tablespoon water
1 teaspoon Hawaiian Shaved Ice watermelon syrup
1/4 cup prepared lemonade
green food coloring
Chopped dark chocolate or chocolate chips
Zoku Quick Pop Maker (3 pop model)
Freeze Zoku Quick Pop Maker in the freezer overnight and read manufacturer's instructions completely.
Puree watermelon, water, and watermelon syrup in a blender. Transfer to a container with a spout, such as a measuring cup. Mix lemonade with green food coloring.
Take Zoku Pop Maker out of freezer. Stir some watermelon mixture into the chocolate chips (this will help them stick to the inside of the mold and not all sink to the bottom). Place about 5 chocolate chips against each inside wall of the Zoku mold cavities using the plastic pop stick to help press them in place. Insert pop sticks in place and pour 3 tablespoons watermelon mixture into each mold; freeze completely. When frozen, add green lemonade mixture into each mold to the fill line. Allow pops to freeze until solid.
When frozen, remove pops from the molds and enjoy! Or place the pops in plastic bags to put back into the freezer and eat later.
Makes about 3 pops