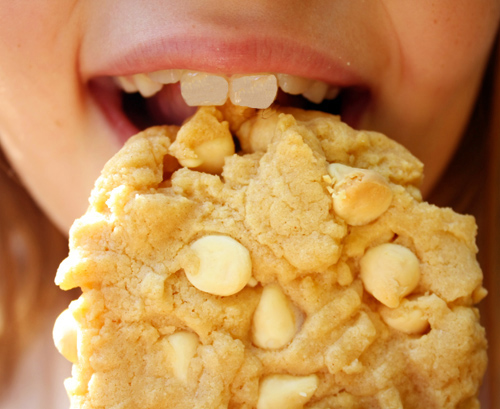 An upscale rendition of the classic peanut butter cookie, these sweets are great for a cute Christmas cookie collection.
1/2 cup margarine, room temperature
3/4 cup crunchy peanut butter
1 cup granulated sugar
1 egg
1 teaspoon vanilla extract
1 3/4 cups all-purpose flour
1/2 teaspoon baking powder
3/4 cup white chocolate chips
Preheat oven to 350F (175C).  Lightly spray a baking sheet with a non-stick cooking spray.  Add margarine and sugar into a mixing bowl and beat until creamy.  Add peanut butter and beat until smooth. Beat in egg and vanilla. Sift together dry ingredients and gradually beat into mixture until thoroughly combined.  Stir in white chocolate chips.
Drop by the heaping tablespoon 2 inches apart on prepared baking sheet.  Dip bottom of a drinking glass in granulated sugar and flatten cookies.  Make a crisscross design in cookies by pressing back of a fork on top of each cookie.  Bake for 10-12 minutes.  Store in an airtight container at room temperature.
Makes about 20 cookies