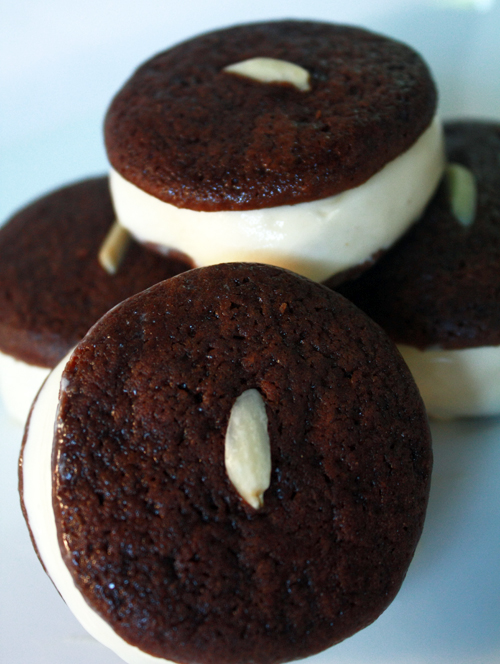 The cookie recipe used for these petite ice cream sliders is from my first cookbook, The Sophisticated Cookie!
Black Russian Espresso Cookies
1 cup butter, at room temperature
3/4 cup granulated sugar
3/4 cup golden brown sugar
3 tablespoons espresso powder
3 tablespoons Kahlua
1 tablespoon vodka
2 large eggs
2 cups all-purpose flour
1 teaspoon baking powder
1/4 cup unsweetened cocoa powder
Slivered almonds
1 pint premium vanilla ice cream
Beat butter and sugars in a large bowl until fluffy. Dilute espresso powder in Kahlua, and beat into mixture along with vodka and eggs. Sift together flour, baking powder, and cocoa powder and beat into mixture until combined. Chill dough for about 30 minutes until firm.
Form batches of dough into 1 1/2-inch diameter logs. Wrap in plastic wrap and chill until firm.
Preheat oven to 350 degrees. Cover a cookie sheet with wax paper and coat lightly with non-stick cooking spray. Slice off 1/4-inch thick rounds from cookie dough log and reform if necessary into nicely shaped circles. Place on prepared cookie sheet about 2 inches apart. Insert a slivered almond into the center of each cookie.
Bake for 8 minutes. Remove from oven and cool completely on cookie sheet.
Scoop 2-3 tablespoons of vanilla ice cream on one cookie and top with another cookie. (You may need to soften the ice cream just a bit.) Smooth around side of ice cream sandwich using a butter knife, and place in a container in the freezer while finishing up remaining sandwiches. Cover container and chill until firm before serving.
Makes about 48 cookies; 10 – 12 ice cream sandwich sliders from 1 pint ice cream