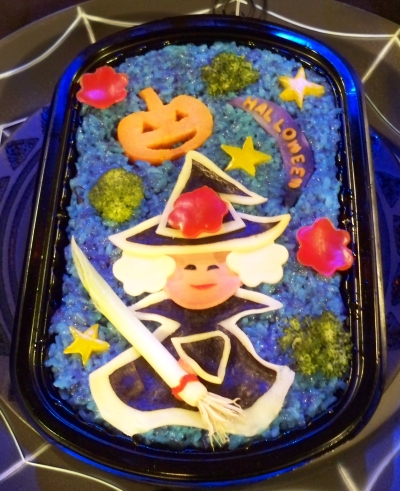 Many are familiar with classic wooden obento boxes where compartments hold a balanced Japanese meal for the diner. The tradition of creating a "bento" box for children so that they may enjoy a nutritious homemade and artistic meal for lunch at school has migrated from Japan to the United States. This bewitching Halloween obento is a great way to give kids the taste of the holiday at school along with a substantial lunch.
1. Tint cooked short grain rice blue with food coloring.
2. Create Halloween shapes from cooked vegetables to accent the obento. I used a purple potato for the moon and spelled out "Halloween" using Spaghettio's alphabet letters. I used an orange yam to make a Jack O'Lantern and canapé cutters on red and yellow pepper to make to stars and flowers. Broccoli florets finished off the design in the rice and got the greens in!
3. To make the witch: I cut out a witch shape from Provolone cheese and then cut out nori (seawood sheets) a bit smaller in the same shape to accent the cheese on top. Bologna made her face with nori eyes and a red pepper mouth. I used a scallion for the broom with a red pepper band.