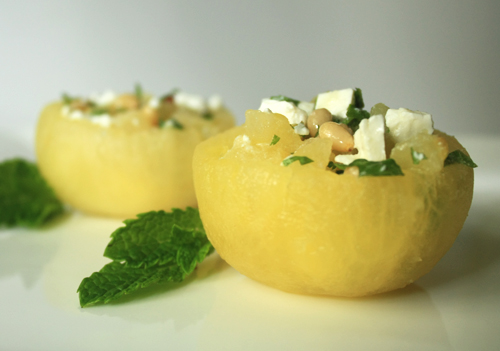 I wasn't quite sure what to call this lovely sunny dish. Perhaps a salad and certainly a side dish, these packed tomatoes would be ideal to serve at a simple summer lunch.
2 tablespoons pine nuts
5 medium yellow tomatoes
1/4 cup crumbled Feta cheese 
2 teaspoons chopped fresh mint leaves
1/2 teaspoon pure olive oil
1 teaspoon fresh lemon juice
1/8 teaspoon Kosher salt
Toast pine nuts in a 375 degree oven for 3 to 5 minutes. Cool to room temperature. 
For an easy way to remove the skins off the tomatoes, fill a pot halfway with water and bring to a boil. Immerse tomatoes for 45 seconds in boiling water, remove from water with a strainer, and then immediately plunge into an ice cold bowl of water. After a minute, skins should peel right off tomatoes.
Slice the top off 4 of the tomatoes, about 1/2 inch down from the top. Remove the stems from the tops and dice. Remove the seeds and core from the 4 tomatoes to make cups. Rinse tomatoes, pat dry. Remove the stem, seeds, and core from the remaining whole tomato and dice.
Mix diced tomatoes, pine nuts, Feta cheese, mint, lemon juice, olive oil, and salt in a bowl and then spoon into tomato cups. Serve immediately or cover and refrigerate for up to 2 hours before serving.  
Makes 4 tomatoes