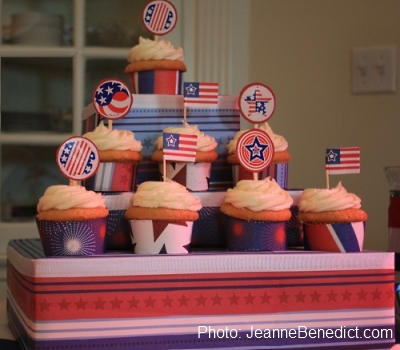 Dress up your holiday dessert table with patriotic paper for a sweet spread that's stylish, affordable, and simple to clean up! I've recently partnered with Fling Bins in a series of fun videos and more about all types of parties. This DIY Cupcake Tower Centerpiece is sure to bring out the patriotism in everyone at your July 4th party.
Materials
3 sturdy boxes for the tower (large, medium, and small as per the instructions below)
4 to 6 sheets each of 5 different types patriotic-patterned paper all in the same color tones
White paper (for cupcake wrap pattern)
2 sheets each of red, white, and blue cardstock
A roll of white grosgrain ribbon
Double-stick tape
Round patriotic stickers
Flag picks
Wooden toothpicks
Scissors
Cupcakes
To Make The Cupcake Tower: 
This cupcake tower is made by stacking 3 decorated boxes on top of each other. The bottom box is the largest, the middle box is a bit smaller, and the top box is the smallest.
When considering your box sizes, stack them up and make sure that the box beneath it has enough room to leave a little shelf for the cupcakes.
Cover the boxes with scrapbook paper and trim the top perimeter with white grosgrain ribbon as per the instructions under Fourth of July Food Risers and Containers.
If necessary, use double-stick table under the boxes to keep the secure.
To Make the Cupcake Wraps:
Fashion a cupcake wrap pattern out of white paper. The basic shape is slightly curve arch. Wrap the white paper around a cupcake trimming it to fit until you are satisfied with the pattern.
Place the pattern on to the patriotic paper. Trace and cut out a wrap for each cupcake. Wrap your patriotic wraps around the cupcakes and use tape in the back to keep them closed.
To Make the Cupcake Toppers
Use both flag picks and homemade round cupcake toppers for a festive look.
Place round thematic stickers on solid color cardstock, such as red, white, or blue. Cut around the stickers leaving some of the cardstock showing to frame the label.
Place double-stick tape on the backs of the round cardstock labels. Add a wooden toothpick to each (making sure it is attached to the tape) and so it extends from the edge of the label a bit.
Place another cardstock label on top of the first ones. Press labels together with the toothpick sandwiched between them to make double-sided toppers.
Insert the toppers and flags into the cupcakes.
Set your Cupcake Tower boxes on the table and place the cupcakes on it for a sweet patriotic centerpiece.
(A version of this craft is also on Celebrations)