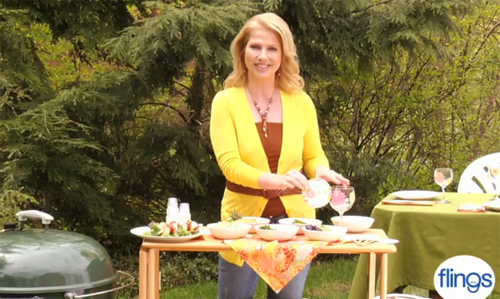 Be inspired by the beauty of nature and go gorgeous on the grill as well as your outdoor party table! These ideas and this video were created in partnership with Flings Bins, pop-up trash and recycling bins. We went with colorful kabobs and a dip station, so guests could tailor the tastes to their palates, and a gourgeous dining table where items were dressed up with scrapbook embellishments.
5 Tips for a Simply Gorgeous Grill Out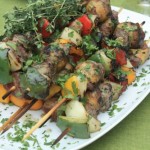 1. Colorful Kabobs – Fire up the grill with kabobs. They're easy to prepare beforehand and guests love them! Also, kabobs are great if your crowd has a diverse diet in that it's easy to please both meat-eaters and vegetarians too. If using bamboo skewers, soak them first in water (you can even season the water with herbs). Also, use foil on the ends so the skewers don't burn. 
2. Kabob Dip Bar – For a unique twist on a traditional BBQ, add a dipping sauce bar so guests can enhance their kabobs to suit their palates. Place small bowls of dips such as a ginger soy marinade, cucumber ranch sauce, even a salsa, on a side or dining table so guests can serve themselves.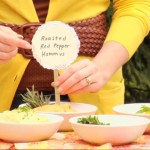 Make the dips from scratch or doctor up store-bought dressings and condiments, for example adding  fresh rosemary to a balsamic vinaigrette or tarragon to mustard. Label dips guests with little signs know what they are.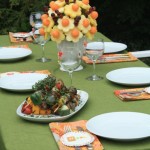 3.  Edible Centerpiece – A fresh fruit display doubles as a beautiful centerpiece and fresh, healthy treat for guests. Plus, this is a nice idea for a summer holiday, for example red, white, and blue fruit!
 4.  Pretty Paper Decor – For a chic and cost-effective way to dress up place settings, such as the glass and place card, take a trip to the craft store and check out the scrapbook aisle.  For the wine glasses on the table, I applied paper floral stickers within the party color palette as an easy way to accent stemware.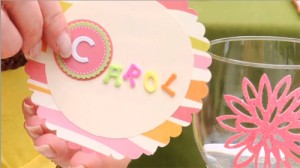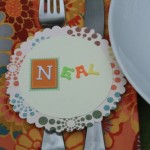 The placecards were created with complementary-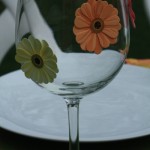 colored scrapbook paper that I cut out with scalloped-edge scissors and then attached a white circle to them with double-stick tape. The letters were self-adhesive scrapbook items making the placecards super simple to put together. 
5. Chic Clean-Up – Provide elegant and convenient trash and recycling containers for guests with Flings Pop-Up Trash and Recycling Bins. They look great at a party and they easy to use. Plus, it encourages guests to separate trash and recycling items rather than tossing them out together.