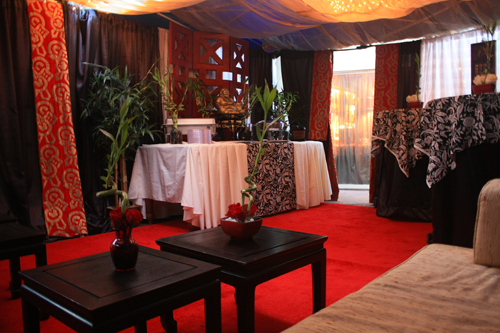 This New Year Party with a Chinese Modern Theme is one of the prettiest parties I think I have ever hosted and it's all thanks to my sponsors Walmart and Sam's Club. A couple of days ago, I shared some of my product picks and inspiration items from both Sam's Club and Walmart in the blog post at this link and below are pictures from the actual party. I think you'll be amazed at the design possibilities that both of these stores offer and the easy menu options from frozen appetizers to prepared desserts to high quality affordable wine all of which added to this gorgeous and memorable event!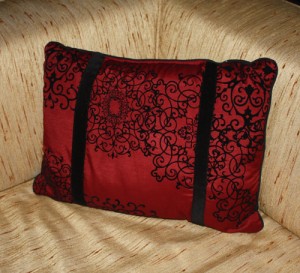 As I wrote in the initial post about this party, this Amaryllis design red pillow that I spotted at Walmart inspired the color palette for my party. I placed these pillows on gold Chinese modern couches complete with a couple of Chow side tables in front of them. (I rented the couches, tables, and a few other items from Omega Cinema Props.)
But, the item that really tied the theme together were these Hometrend's brand red and black square plates and bowls that I used for the flower arrangements. The bowls were around $3 and the plates were about $4, and they also come in a set with mugs. I also bought the red and white roses from Walmart! Love the one-stop shopping!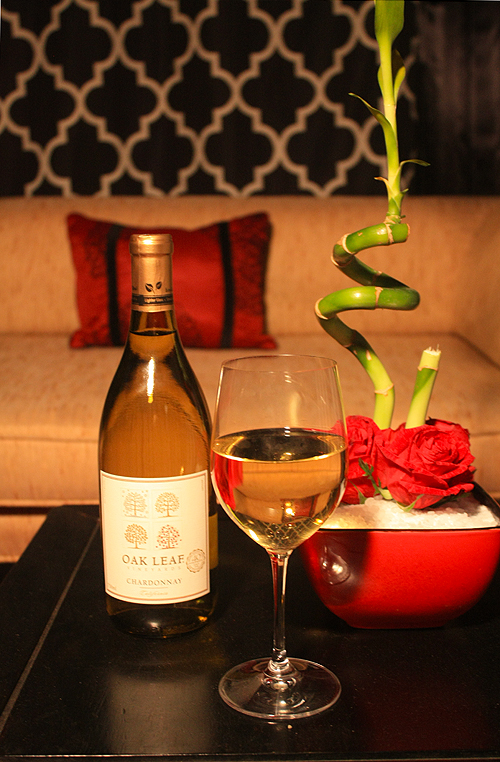 Oak Leaf is an award-winning wine available only at Walmart for under $3 a bottle (under $2 in California). In fact, the customers in front of me and behind me in the check-out line were buying a bunch of Oak Leaf Wine for their parties too! I decided to go with the Chardonnay and the Merlot, but there are 8 varietals to choose from giving you many pairing options for your menu at a great price.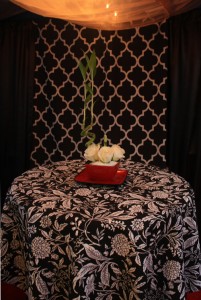 My favorite section at Walmart is the "do it yourself" area, and I bought some stunning black and ivory colored floral fabric for about $6.99 a yard that I used as an accent panel down the front of the buffet (pictured above) and as an overlay on the bar height event tables that I purchased for $29.88 each at Sam's Club. In this photo you can also see the red bowl on the square plate in this white rose and bamboo flower arrangement I put together. These event tables were great space-savers and the under $30 price is incredible. Guests really liked the "club" feel of these tables and hung out around them most of the night; even moreso than the comfy couch lounge area.
Sam's Club made my life super easy when it came to the food at my party. I whipped up a couple of items like the orange shrimp in the magenta cabbage, which I picked up from Walmart's fresh produce department, displayed under the Buddha on the buffet. But, I purchased frozen appetizers including Daily Chef Mini Crab Cakes and Bacon-Wrapped Shrimp with Pepper Jack Cheese which was a huge hit. The appetizers were kept warm in the new chafing dish that I also bought from Sam's Club.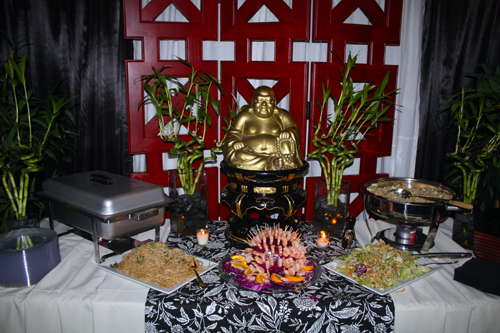 Finally, the centerpiece on the dessert table was a Chinese foot bridge studded with fortune cookies meant to be symbolic of good fortune leading into the New Year. My guests loved this idea and I surrounded the bridge display with delicious prepared desserts from Sam's Club such as red velvet cupcakes, chocolate chip cookies, brownies, and the show-stopper sweet, Cheesecake Factory Red Velvet Cheesecake, which I topped with some fortune cookies!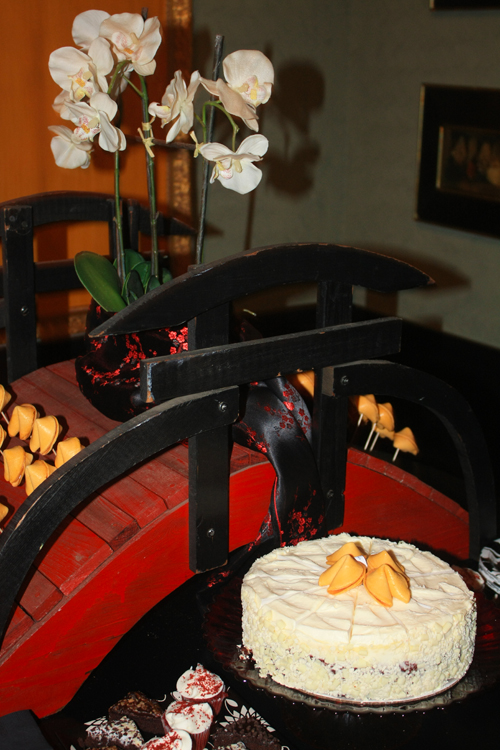 And here's a better view of the New Year Fortune Cookie Chinese Bridge that wished my guests the best of luck and happiness in the New Year!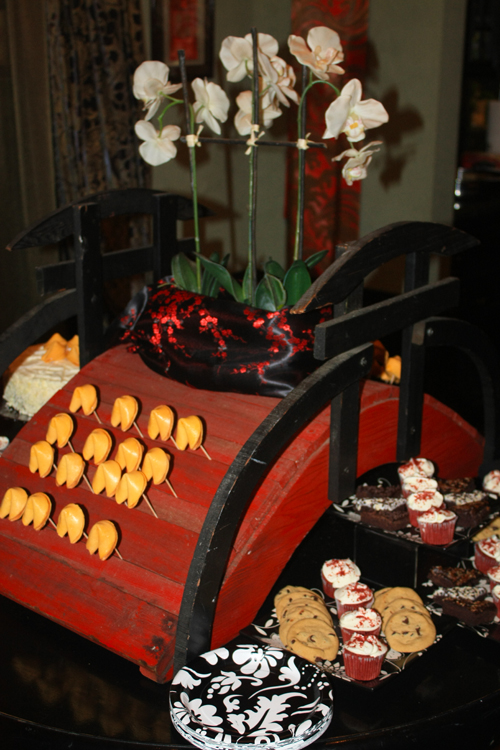 Whether you are decorating for a party or your home, check out both Walmart and Sam's Club for unique high-end products at amazing low prices.