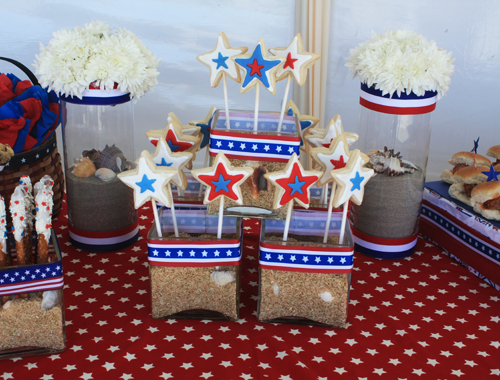 These sugar cookies bake up like shortbread because of the powdered sugar in the recipe. They are also sturdier than the average sugar cookie, which makes them ideal as a cookie pop! Kids love these cookies with their red and blue fondant stars. I made a batch for a TV show party on a beach and they were a huge hit! To display them on a party table, consider filling a glass cube vase with uncooked brown rice to resemble beach sand and placing some shells on the rice. Insert the cookie pop sticks into the rice sand so they stand vertically and make a show-stopping holiday display as in the photo.
3/4 cup unsalted butter, room temperature
3/4 cup granulated sugar
3/4 cup powdered sugar
1 large egg yolk
1 large egg
1 teaspoon almond extract
2 1/2 cups all-purpose flour
1 teaspoon baking powder
Wilton cookie sticks
White Cookie Icing with Red and Blue Fondant Stars
1 egg white
1 1/2 cups powdered sugar
1/8 teaspoon almond extract
"Satin Ice" red and blue prepared fondant
Add butter, granulated and powdered sugar into a mixing bowl and beat until creamy. Beat in eggs and almond extract until smooth. Sift together flour and baking powder and beat into mixture until combined. Form dough into a disk and wrap in plastic wrap. Chill for 1 hour.
Preheat oven to 350F (175C).   Lightly spray a baking sheet with a non-stick cooking spray.  Roll out dough on a floured surface to 1/4-inch thickness (measure the thickness if necessary as the cookie pop sticks may not insert properly into thinner dough).  Cut out cookies with a 3-inch star-shaped cookie cutter.  Place cookies 2 inches apart on prepared sheet and gently insert a cookie stick into each star cookie. (Note: Cookie dough should be very stiff and cold when it goes into the oven for best results. If dough is left out too long and is no longer chilly to the touch, reform it into a disk, put it back in the refrigerator, and start the rolling out process again when dough is cold.) Bake for 10 to 12 minutes. Cool completely.
Meanwhile, whip egg white in a clean medium bowl on high speed for a minute. Add almond extract and gradually add powdered sugar, beating on high speed after each addition. Spread icing on top of cookies or for a "pro look" transfer icing into a pastry bag fitted with a no. 5 writing tip. Pipe around the border of the star cookie, and then fill in the cookie by piping icing (a.k.a. flooding the cookie) within the border. Allow icing to set.
Dust a flat surface with powdered sugar and roll out red and blue fondant to 1/16 thickness. Use a 2-inch and 1-inch star-shaped cutter to create fondant stars. Lightly moisten the back of the fondant stars with water and apply in layers on each cookie, such as a red 2-inch star on the white icing, and then a blue 1-inch star on the red star, to create a festive red, white, and blue star cookie pop.
Display cookie pops vertically in a cube vase of uncooked brown rice with shells on top for a beach look, or give the pops as holiday gifts by wrapping them in plastic wrap or a cellophane bag and tying a 4th of July ribbon around the stick to keep the plastic closed.
Makes about 20 cookie pops