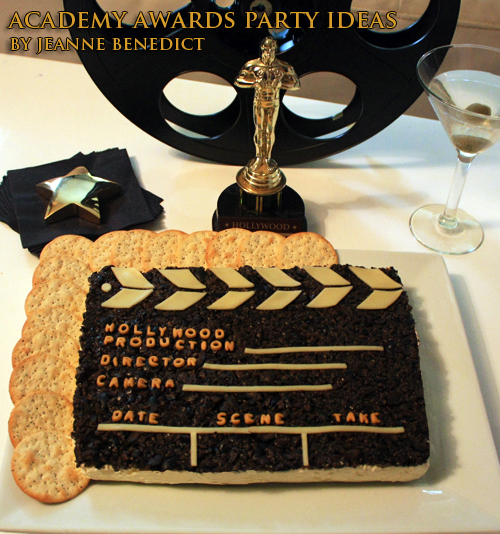 Here's a sneak peek of a tasty dish I'm serving at my Oscars Party to watch the Academy Awards. It's actually very simple made with cream cheese and bleu cheese dressing, minced olives, provolone cheese, and A-Z Spaghettios for the letters on the clapboard!
Easy Recipe:
6 (8 oz.) blocks cream cheese, softened
1/2 cup chunky blue cheese dressing
2 cans large black pitted olives
A to Z Spaghettios
Provolone cheese, thinly sliced
Instructions:
To make a mold for the clapboard, cut along three sides of a cereal box front to open it up and make a mold that you can easily pull off. Line the box with plastic wrap and reinforce the corners with tape as shown in the photo below. (I used a small cereal box, about 8.6 net wt. A snack box, like Cheez-it would probably be fine too!)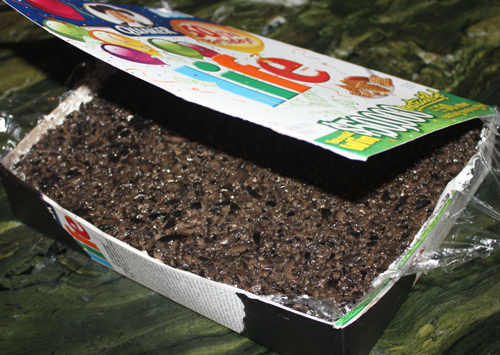 Place the box mold on a cookie sheet. Mix together cream cheese and blue cheese dressing and fill box mold with it. Use an off-set spatula, knife, or back of a spoon to smooth the top into an even layer. Loosely cover with plastic wrap and refrigerate until firm.
Drain canned olives of their juices and mince olives in a blender or food processor. Spread olives in a smooth layer on top of cream cheese. Place back in the fridge while you prep the Provolone cheese and letters.
Rinse the A to Z Spaghettio letters to remove the tomato sauce. Pick out the letters that you wish to use on the clapboard. Cut the Provolone cheese into strips and shapes to resemble the design on a clapboard and arrange cheese and letters on top of olives. Place the clapboard on a large rectangular platter or wooden cutting board; remove cardboard mold sides, and as best you can from bottom without messing up the clapboard cheese shape. This dish will be a showstopping appetizer for your Academy Award Party or a Hollywood Movie Party!
Here's a clip from NBC Chicago where I share this idea and more for an Oscar Party.