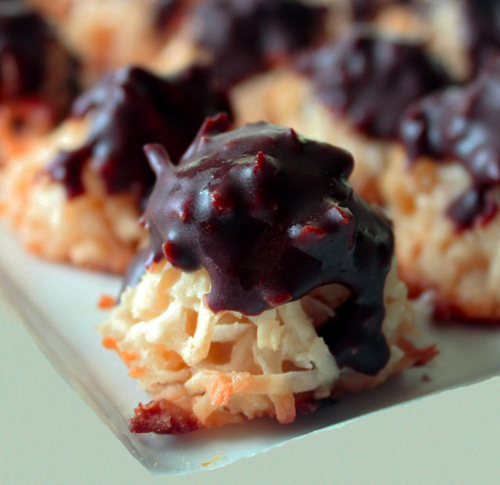 Cookies with a glaze on top, made from melted chocolate or powdered sugar and blended with a liqueur will get the rave reviews.  Baileys is the perfect glaze liqueur as it has a terrific taste and creamy texture that mixes exquisitely with just about anything.  Another great use of Baileys is as an accent to sweetened condensed milk.  I'm very picky about macaroons and not only is this cookie recipe super easy, the sweetened condensed milk and Baileys keeps the macaroon ultra moist. These macaroons would make very cute Christmas cookies!
1/2 cup Eagles Brand Sweetened Condensed Milk
2 tablespoons Baileys Original Irish Cream Liqueur
1 (7 oz.) bag sweetened, flaked coconut
2 tablespoons all-purpose flour
Baileys Chocolate Glaze
1/2 cup semi-sweet chocolate chips
1/4 cup unsalted butter
1 1/2 teaspoons corn syrup
2 teaspoons Baileys Original Irish Cream Liqueur
Preheat oven to 350F (175C).  Butter a baking sheet and coat heavily with flour. Toss together coconut, Baileys, sweetened condensed milk, and flour until thoroughly combined.
Drop by heaping tablespoon 1 inch apart on prepared baking sheet. Bake for 10-15 minutes until edges are golden brown.  Remove cookies from oven and cool.
To make Baileys Chocolate Glaze, melt semi-sweet chocolate chips, Baileys, corn syrup, and butter in a microwave-safe bowl in the microwave for 10 second increments, stirring in between, until chocolate is smooth. Spoon by teaspoon over cookie tops.  Allow chocolate to set.  Store at room temperature in an airtight container.
Makes 12 cookies