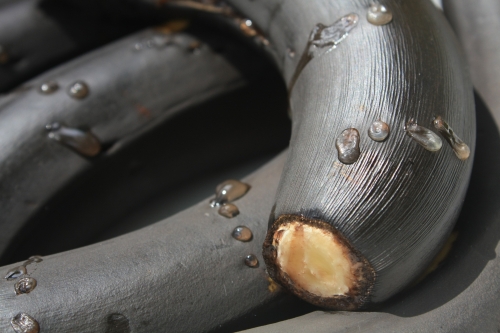 On Saturday night, I had a birthday dinner for my husband. He told me not to go to any trouble, so I cooked for 3 days because he's so awesome! This salad is one of the dishes I served along with several others, which I'll share in future posts. I have been wanting to try out my banana vinegar on a few friendly palates for quite some time now, as it's a favorite flavor of mine. The dinner party was a big success and all loved this salad. Enjoy!
Banana-Tarragon Vinaigrette
Upon researching Costa Rica, I came across some info about bananas, a most valuable commodity of the country, and one of its byproducts: banana vinegar. I became obsessed with making it at home. Costa Rican's make this fruity vinegar by allowing a bunch of bananas to blacken and "ferment" in the sun for a week's time or more. I found that I could achieve a similar process by cooking them and punching up the banana syrup. The result was fabulous as a robust enhancement in this salad.
6 large bananas
2 tablespoons white wine vinegar
1 tablespoon Mirin
1 tablespoon canola oil
1 tablespoon minced tarragon
1/4 teaspoon salt
Preheat oven to 350F. Keep bananas in their peels during cooking process. Rinse peels well. Cut stems and ends off bananas. Place bananas in a glass, baking dish. Bake for 30 minutes, until bananas are black and their syrup is visible on the bottom of the dish. Remove from the oven, and pierce each banana about 6 times with a fork or wooden skewer. Gently press the peels, so more syrup seeps from the holes, being careful not to squeeze out the actual fruit. Remove the bananas from the dish, and pour the syrup into a small bowl. Add vinegar, Mirin, oil, tarragon, and salt to banana syrup and whisk together until combined. Cover and set aside until ready to use.
Pineapple Polenta Croutons
Ask any older Italian and most will tell you that polenta was the dish that was served when families were on a serious budget. My Italian mother-in-law refers to it as porridge! Add a predominant flavoring ingredient to it, such as pineapple juice, and cook it with a highly seasoned bouillon cube (as opposed to plain water or broth) and you've got a great base for an appetizer or the beginnings of an outstanding crouton. I made these toasty tropical gems for my dinner party and they were a big hit within the salad, especially when bites had bits of bacon!
1 cup water
1/2 cups pineapple juice
2 (3.5 gm) chicken bouillon cubes
3/4 cup yellow cornmeal
Sesame oil
Bring water, pineapple juice, and bouillon cubes to boil in a medium saucepan over medium heat. Slowly sprinkle cornmeal into water while quickly whisking mixture. Continue whisking for 3 – 5 minutes smoothing out any lumps as mixture thickens. Replace whisk with wooden spoon and cook, stirring constantly until mixture thickens, about 1 minute. Spoon should stand in mixture and polenta will come away from sides of pan. Remove from heat and spread mixture on to a lightly oiled baking sheet making ½-inch thick rectangle of polenta. Cool until polenta is set, about 15 minutes. Cut polenta into 3/4-inch squares.
Heat 1 tablespoon sesame oil in a large skillet over medium-high heat. Add polenta cubes and cook, stirring occasionally, until toasted and browned on all sides. Remove from skillet on to a bed of paper towels to soak up excess oil. Repeat process as necessary until all polenta cubes are cooked.
Salad Assembly
6 cups field greens
Pineapple Polenta Croutons
8 strips cooked bacon, chopped
Banana-Tarragon Vinaigrette
Just before serving, toss ingredients together in a large bowl until incorporated!
Makes 6 to 8 servings