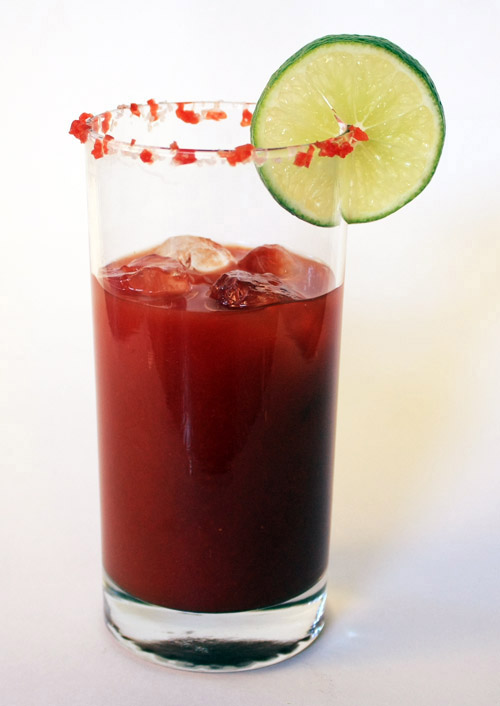 Being more salty than sweet, I'm all about the Bloody Mary cocktail on Chrsitmas morning with a huge plate of Eggs Benedict. The red and green garnish is super easy to do and makes this cocktail beyond festive!
2 tablespoons minced red pepper (patted dry of juices)
2 tablespoons coarse or kosher salt
Lime wedge, plus a lime wheel garnish
6 oz. tomato juice
1 oz. EFFEN® Vodka
2 teaspoons Worcestershire sauce
1/8 teaspoon fresh horseradish sauce
Juice of  1/2 lime (2 teaspoons)
Optional: splash of Tabasco pepper sauce
Place the salt and minced red pepper on a saucer; mix them up a bit. Run a lime wedge or water around the rim of a tall glass. Dip the rim into the salt and red pepper.
Add tomato juice, vodka, Worcestershire sauce, horseradish, lime juice, and Tabasco sauce over ice into the prepared tall glass.
Cut a slit into the side of the the lime wheel, slide it on to the rim of the glass as a garnish, and serve.