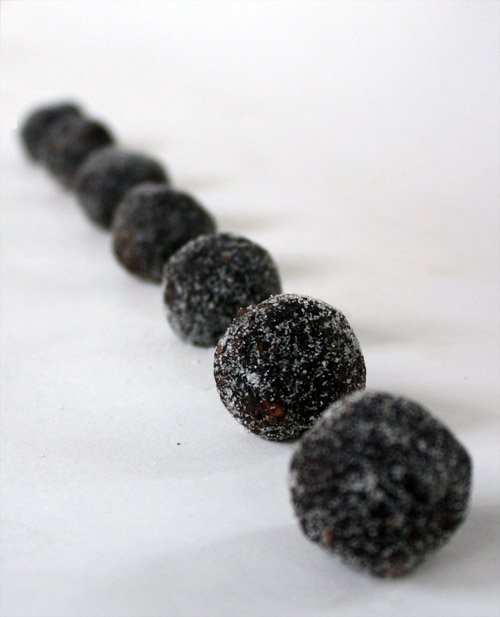 My holiday hostess gift is always boozey cookies. Some times I make them into a Christmas tree (think croquembouche shape using a Stytofoam cone, toothpicks, and the ball cookies) and sometimes I packed them into a sweet little bag with a label urging, "Don't eat and drive." Seriously, they pack quite a punch, but they are soooo good. I also make these for all my kids' teachers as holiday gifts! I feel they could use a few "belts" in a ball after spending hours upon hours with our sweet children. And now, I'm going to down about 10 balls.
1 cup milk chocolate chips
2 cups oreo cookies (twist open and scrape out cream filling)
1/2 cup bourbon
2 1/4 cups powdered sugar
1 teaspoon corn syrup
1 1/2 cups pecans
1 cup granulated sugar
Grind together chocolate chips and oreo cookies in a food processor. Add powdered sugar and process until combined. Add the bourbon and corn syrup and process until crumbs form a mass. Add pecans and pulse until walnuts are coarsely chopped and throughout mixture. 
Form 1-inch balls by rolling mixture with your hands.  Place granulated sugar in a shallow bowl and roll balls in sugar.  Store in wax paper lined airtight container in a cool dry place.  Let balls sit for a few days before eating for best results.
Makes about 60 balls