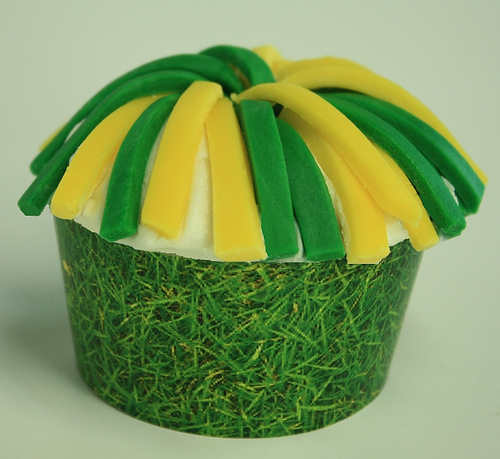 Go Team! Root for your favorite football team at a Super Bowl party with these cheerleader-inspired cupcakes topped with fondant pom-poms and wrapped in grass paper.
Steps:
Bake a batch of your favorite cupcakes and ice them with white frosting.
Tint a couple of batches of white fondant in your team's colors by kneading food coloring into the fondant until the color is even. Or purchased colored fondant if available in your desired colors.
Spray your work surface and rolling pin with a light coat if non-stick cooking spray. Roll out fondant and cut into thin (@ 1/4-inch) strips (I like to use a pizza cutter!). Then cut strips into 1 1/2-inch lengths.
Pile strips on top of cupcake to resemble a pom-pom (see photo).
Make a pattern for the cupcake wrap by wrapping white paper (or cardstock) around the cupcake and trimming it to fit.
Print a grass image from you computer and place the cupcake wrap pattern on the image; cut it out.
Wrap the cupcake in the grass wrap and tape the back to keep it closed.
(I originally designed this cupcake as a Contributing Editor and Lifestyle Party Expert for Celebrations.com.)