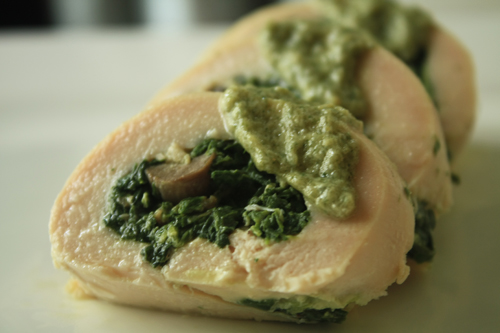 A lovely presentation for a dinner party, chicken breast roulades are stuffed with a blend of delicious ingredients like spinach, mushrooms, bacon, and Parmesan that are sure to tantalize the palates of all your guests.
2 (10 oz.) packages chopped cooked frozen spinach
2 tablespoons butter
1 small clove garlic, minced
2 (10 oz.) packages sliced button mushrooms
3/4 cup heavy cream
1 1/2 cups fresh grated Parmesan cheese
1/2 cup chopped cooked bacon
1 tablespoon bacon fat
1/2 teaspoon salt
1/4 teaspoon pepper
10 boneless, skinless half chicken breast cutlets
3 tablespoons olive oil
Preheat oven to 350F (160C).
Thaw spinach and squeeze out all excess water; set aside. Melt butter in a large skillet over medium-high heat. Add garlic and heat for 1 minute. Add mushrooms and cook until lightly browned, about 8 minutes. Stir in spinach until incorporated and add cream. Cook, stirring frequently, until cream reduces and thickens, about 3 to 5 minutes. Remove from heat and stir in Parmesan, bacon, fat, salt, and pepper.
If necessary, trim any excess fat off chicken cutlets, and pound thicker pieces to 1/4-inch thickness. Rub olive oil on both sides of cutlets and season lightly with salt and pepper. Cover a baking sheet with foil. Spread 1/4 cup spinach mushroom mixture along center, on underside of each chicken cutlet. Roll up cutlet around mixture and place on baking sheet, seam side down, so roulade stays closed during cooking process.
Cook for 20 to 30 minutes until chicken center is no longer pink. Remove from heat, slice, and arrange on platter or individual plates. Drizzle a butter herb sauce over top and serve hot.
Makes about 6 servings