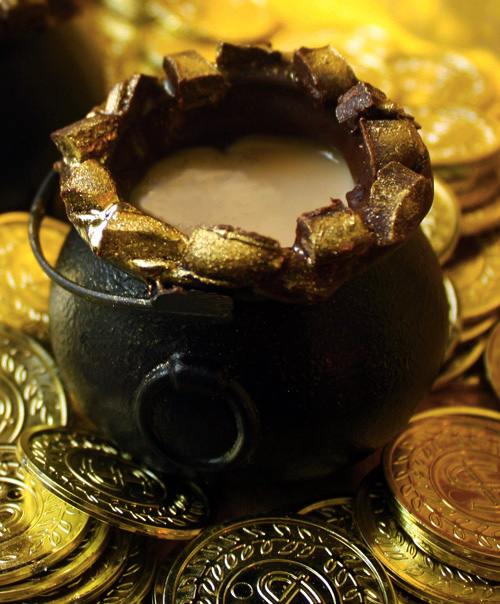 I am over the moon about these sweet little pots! I bought these plastic Leprechaun "Candy Kettle" pots in the favor section of Party City. To make them "food friendly," I lined the inside of the pots with melted chocolate, which cooled into a chocolate shell. The golden edge of the pot is made by brushing 24-carat edible gold dust on to a chunky chocolate rim, which creates a magical effect!
6 plastc "Candy Kettle" pots (holds @1/2 cup liquid)
1 (12 oz.) bag Wilton's Dark Cocoa Candy Melts
24-carat edible gold dust
Baileys Irish Cream Liqueur
Franjelico Hazelnut Liqueur
Hand wash plastic pots with hot, soapy water; rinse and dry thoroughly.
Coarsely chop 1/4 cup of Candy Melt wafers for chunky rim; set aside. Melt remaining wafers according to manufacturer's instructions on bag. I put them in a 2-cup microwave-safe measuring cup and melt them for 30 second increments on the "defrost" setting. Most microwave cooking settings may cause the chocolate to seize and harden.
Fill each pot with 3 tablespoons of melted chocolate and move pot around so chocolate coats entire inside of pot. Use a knife to spread chocolate on the rim and place chopped chunky chocolate on rim. Immediately place pot in freezer for chocolate to set. Repeat steps with remaining pots.
Remove pots from freezer and brush chunky chocolate rim with edible gold dust. Keep in the refrigerator until ready to use.
Combine 1/4 cup Baileys and 1/4 cup Franjelico into a Martini shaker with ice. Shake and strain into chocolate pots to serve.
Makes 6 pots