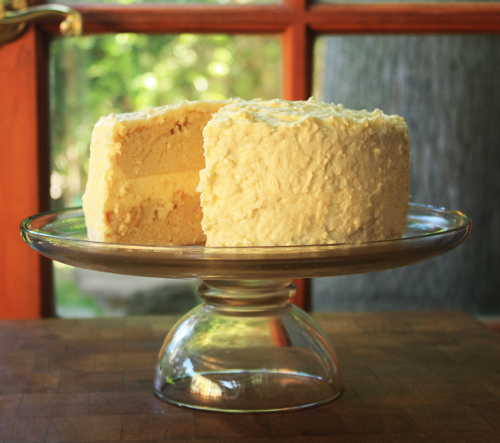 I have been whipping up a cake and butter cream storm in my kitchen of late. You see, I've been trying to perfect a yellow or vanilla cake recipe as my chocolate cake recipe rules! (Actually it's Hershey's Perfectly Chocolate Cake recipe, but I can still take a teeny bit of credit for its successful outcome.) Although I like the speed of the "back of the powdered sugar box" buttercream icing, sometimes I can taste the cornstarch in the mix when I'd prefer a creamier consistency. And, classic buttercreams that don't have any powdered sugar are a risky proposition in warm weather. So, this Coconut Buttercream Frosting recipe has the best of both all worlds: creamy, buttery, and sturdy enough for summer birthday cakes.
2 large eggs
1/2 cup water
3/4 cup granulated sugar
1 cup butter, softened
2 cups powdered sugar
1 (7 oz.) bag sweetened flaked coconut; about 2 1/2 cups
Beat eggs in a large bowl until thick (as thick as you can get them) and pale yellow; set aside in a cool place away from the stove.
Add water and sugar in a small heavy bottom saucepan and stir to incorporate. Heat water and sugar on medium-high heat until syrup reaches a soft ball stage or 240 degrees on a candy thermometer; about 10 minutes. (To test the syrup without a thermometer, drop a bit of the syrup in a bowl of cold water. The syrup should hold its shape as a soft little ball.) Remove from heat.
Beat the eggs again if they have deflated, then as quickly as you can with the mixer on a lower speed, slowly pour sugar syrup into the eggs beating mixture until it is cool.
Add butter, 1/4 cup at a time, beating after each addition to incorporate. Add powdered sugar, 1/2 cup at a time, beating after each addition to incorporate. Add coconut and beat until mixed. Cover with plastic and refrigerate until mixture thickens up a bit before using; about 15 to 30 minutes depending on how hot your kitchen is.
To frost an 8-inch round cool layer cake: place a cake layer on serving platter and spread 1/3 of the frosting on top. Refrigerate for 30 minutes or until frosting is stiff enough to support top layer. Place top layer on frosted bottom cake and frost the rest of the cake. I like to frost the top and then the sides. Keep cake refrigerated until ready to serve or remove from fridge about 30 minutes to 1 hour before serving for if you like your frosting at a softer consistency.  
Makes enough frosting for an (8-inch) round layer cake