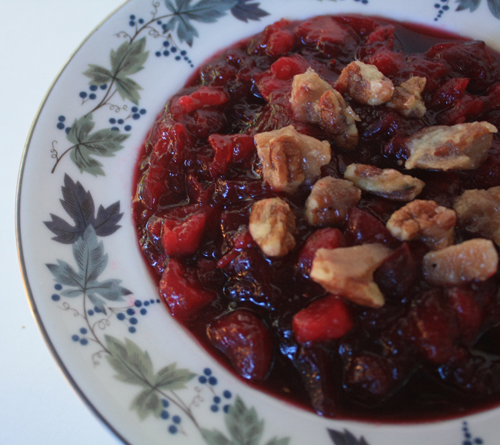 As an alternative to canned cranberry sauce, serve a tart, delicious relish laced with spirit.  This recipe is featured in Toasty Thanksgiving Menu and Table Decor for 6 Guests.
1 1/2 lbs. fresh cranberries, rinsed
1 cup chopped fennel or anise bulb
1 cup chopped Bartlett pears
1/2 cup minced dried peaches
1/2 cup Grand Marnier liqueur
1/2 cup fresh orange juice
1/2 cup sugar
2 tablespoons lemon juice
Place ingredients in a large saucepan.  Cook over medium heat, stirring occasionally, until cranberries are just tender and mixture thickens, about 20 minutes.  Remove from heat and cool to room temperature.
Spoon relish into a bowl and serve. (Optional: garnish with nuts as pictured.) Store in an airtight container in the refrigerator and bring to room temperature before serving.
Makes about 5 cups