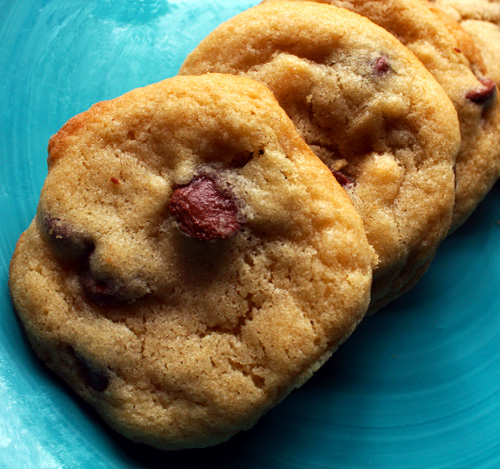 If you have any of my cookbooks, you may have noticed that "healthy," whether that means low-fat, sugar free, or anything in between is not something I pay attention to. However, I recently started thinking about it. We're having a family reunion this summer at an estate in Lake Tahoe, the most beautiful place on Earth, and that means a whole lot of food requirements under one roof from gluten-free to vegetarian. So, I started experimenting with some gluten-free recipes (actually I was really curious about xanthan gum for molecular cooking purposes so that nudged me a bit).  As it so happens, I had a box of King Arthur Gluten Free Flour in my pantry so I checked out their website for recipes. I found the most amazing chocolate chip cookie recipes. Honestly, it was one of the best batches I had ever made. I was expecting these cookies to have a gritty texture, due to the rice flour, but the xanthan gum seems to coat the granules to where the end product was very smooth and chewy. Also, I used Ghirardelli Milk Chocolate chips and they were superb!
Recipe Adapted from King Arthur Flour
1 cup butter
1 cup brown sugar, firmly packed
1/2 cup granulated sugar
1 teaspoon salt
2 large eggs
2 1/3 cups King Arthur Gluten-Free Multi-Purpose Flour
1 teaspoon Bob's Red Mill xanthan gum
1 teaspoon baking powder
1 teaspoon baking soda
2 cups Ghirardelli Milk Chocolate Chips
 1) Beat the butter, sugars, vanilla and salt till fluffy.
2) Beat in the eggs one at a time, being sure to scrape down the sides and bottom of the bowl midway through to make sure everything is well combined.
3) Whisk together the flour, xanthan gum, baking powder, and baking soda.
4) Beat the dry ingredients into the butter mixture, then blend in the chocolate chips and nuts. Again, scrape the bottom and sides of the bowl to be sure everything is well blended.
5) Cover the bowl and refrigerate for at least 1 hour.
6) Preheat the oven to 350°F. Lightly grease a couple of baking sheets, or line with parchment or silpat.
7) Scoop tablespoon-sized balls of dough onto the prepared baking sheets; a tablespoon cookie scoop works well here. Leave space between the cookies so they can spread.
8) Bake the cookies for 9 to 11 minutes, until golden brown. Remove from the oven and let rest on the baking sheets for 5 minutes, to set, before transferring to racks to cool completely. Or allow them to cool right on the baking sheets.
Yield: 3 dozen cookies