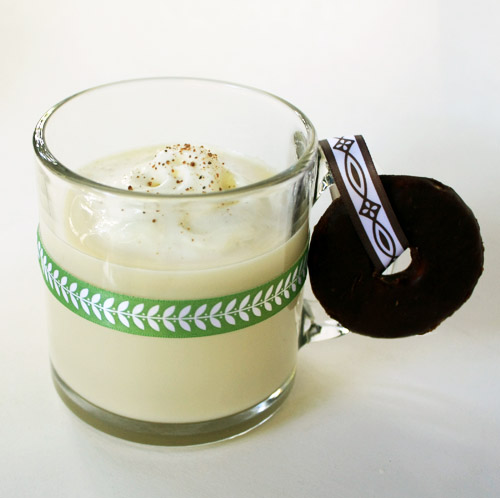 Egg nog is the quintessential Christmas tree trimming cocktail! Wether you whip up a batch from scratch using this recipe or pick up store-bought eggnog, add a fun touch like the cookie ornament that I've decorated the glass handle with as demonstrated in the Holiday Cocktail segment I did on the TODAY Show with Kathie Lee and Hoda.
6 egg yolks
2/3 cup sugar (divided)
2 cups milk
1 cup Jim Beam Black® Bourbon
1 teaspoon vanilla extract
1 cup heavy whipping cream
6 egg whites
Fresh ground nutmeg
Bourbon-Chocolate Glazed Cookie Ornament (recipe follows)
Beat egg yolks until thick. Gradually beat in 1/3 cup sugar until mixture is pale yellow. Stir in milk, bourbon, and vanilla until combined. Cover and chill.
Just before serving: Beat cream in a cold bowl until whipped; set aside. In another clean bowl, add egg whites and 1 tablespoon sugar. Using clean beaters, whip egg whites on high speed gradually adding remaining sugar until soft peaks form.
Fold egg yolk mixture and whipped cream into egg whites and transfer into a punch bowl for guests to serve themselves or ladle eggnog into individual mugs prepped with a Bourbon-Chocolate Glazed Cookie Ornament ribbon tied around the mug's handle. Sprinkle a bit of fresh ground nutmeg on top of eggnog in punch bowl or mugs.
Makes about 5 cups
Bourbon-Chocolate Glazed Cookie Ornament
 
6 Keebler Fudge Stripes Cookies
1/2 cup chopped, good quality milk chocolate
1 tablespoon Jim Beam Black® Bourbon
1 tablespoon butter
Ribbon
To make Bourbon-Chocolate Glaze: melt milk chocolate, bourbon, and butter in top of a double boiler.  Stir until smooth and glaze on top of cookies. Allow chocolate to set. Thread a ribbon through the hole in each cookie ornament to use as a hanger on the handle of a mug.
(A version of this cocktail appeared on Celebrations.com )