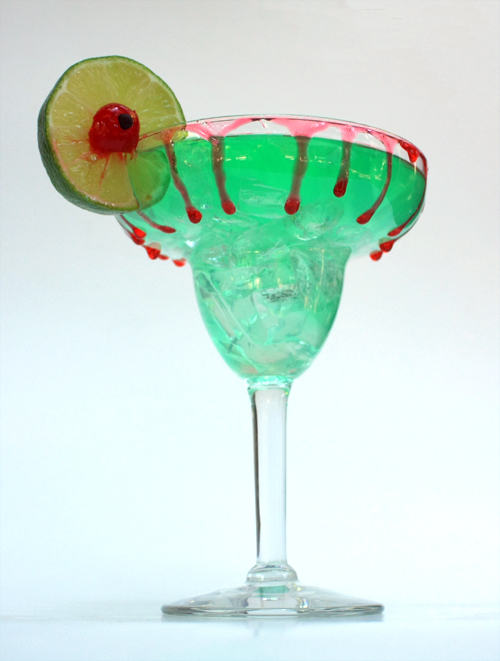 Margaritas are definite crowd pleasers, and this gory version is served in a red sugar blood-dripped glass with an eyeball garnish made from a lime wheel, cherry, and mini chocolate chip.
1 1/2 oz. Tequila
1/2 oz. triple sec
2 oz. sweet and sour mix
Combine ingredients over ice in prepared red caramel blood-dripped Margarita glass with lime eye-ball garnish.
Lime Eyeball Garnish
Lime wheel
Red Maraschino cherry
Mini chocolate chip
Red Caramel (see recipe below)
1-inch long piece of green plastic straw
The day before the party, cut Maraschino cherries in half. Use a dab of red caramel on back of mini chocolate chips and stick them in center of cherries to resemble a pupil. Dip ends of 1-inch straws in red caramel and insert into the open cut side of each Maraschino cherry half. (The cherry will look like a little umbrella with the straw as a handle. This will help keep the cherry in place on the lime as wet cherries do not stick to wet limes very well!) Set cherries on a piece of wax paper, and allow caramel to set up overnight.
An hour before the party, cut a slit into the lime wheel and slip the straw with cherry on it into the slit and up to the center of the lime wheel as the iris of the eyeball. Slip the garnishes on the rims of the glasses. Place prepared red caramel blood-dripped glasses with lime eyeball garnishes on the bar for guests to use for Mar-gore-itas!  
Red Caramel Blood Drips
1 cup granulated sugar
1/2 cup light corn syrup
1/4 cup hot water
1/4 teaspoon red food coloring
Prep red caramel blood drips on glasses the day before the party.
To make the red caramel drips: Combine ingredients in a small saucepan and stir until sugar is moistened. Heat saucepan over medium-high heat until mixture reaches soft ball stage about 4 to 6 minutes. Remove from heat and cool completely. Place Margarita glasses on wax paper. Use the back of a spoon to scrape red caramel on the outside glass rims creating the blood drips. Allow caramel to set up overnight. Clean drips off bottom or base of glasses if necessary where caramel has dripped down.