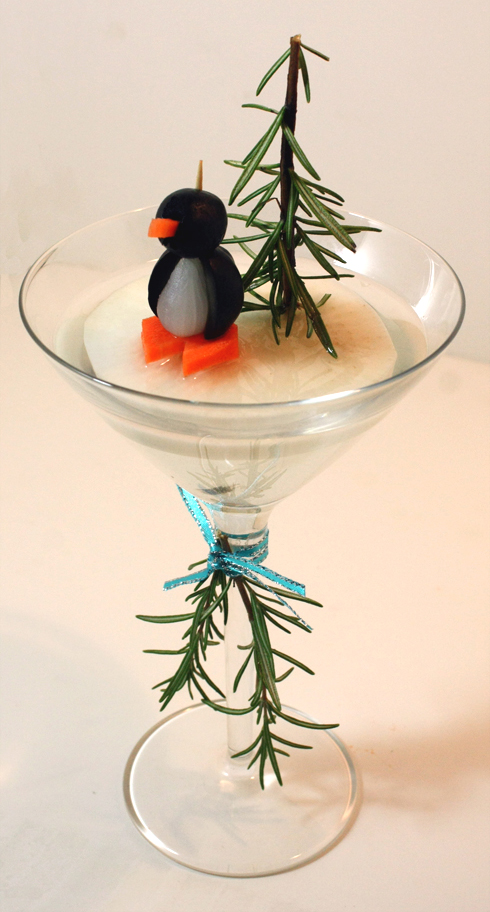 Adorable edible Penguin Olives made with black olives, cocktail onions, and carrots, happily sit in Martini glasses waiting to be doused. This Martini was a big hit on the Christmas Eve Today Show with Hoda and Kathie Lee (watch it here!).
3 oz. vodka
1/2 oz. dry vermouth
Splash Martini green olive brine
Add ingredients into a cocktail with ice. Shake and strain into a Martini glass.
To Make the Penguin Olives:
Small and jumbo black olives
1 – 2 large carrots, peeled
Cocktail onions
Sliced turnip, peeled, brushed with lemon juice
Rosemary stems
Toothpicks
For the penguin's body, cut a slit into the side of pitted jumbo olive and stuff with a small cocktail onion. It may be necessary to pull a layer off the cocktail onion or trim the back so it fits snugly inside the olive.
Place a pitted small olive on its side on top of the body for the penguin's head. Stick a toothpick down into the head and through the body to keep him together.
Slice a peeled carrot into ¼-inch thick rounds and cut a wedge out of the rounds for the penguin's feet. Place the penguin body on the feet and push the toothpick down to keep it all together.
Cut carrot slivers for his beak. Insert the beak into the X on the olive head, (as opposed to the wider hole in the olive).
Insert penguin and rosemary into turnip slice Tie ribbon around glass stem along with more rosemary stems.
Place Penguin Olives in empty Martini glasses on your bar for guests to fill with a Dirty Rosemary Martini.