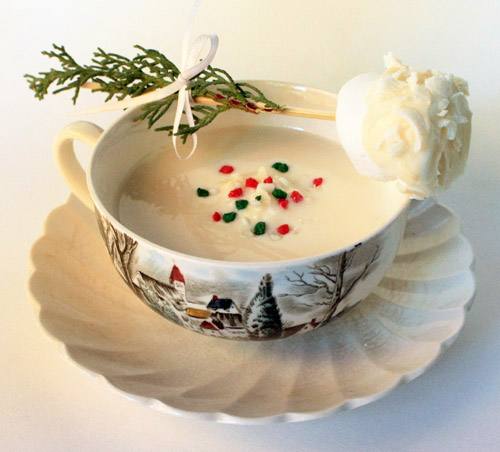 A favorite holiday recipe of mine,  I make a big pot of this Peppermint White Hot Chocolate Christmas cocktail for all my winter parties. Guests love the marshmallow garnish, which you can make by dipping it in white or dark chocolate and then in sprinkles, chopped nuts, or chocolate shavings as pictured. This was included in the Holiday Cocktail segment I did for the TODAY Show with Kathie Lee and Hoda.
6 cups milk
6 cups heavy cream
1 cup white chocolate melting chips or wafers
3/4 cup DeKuyper® Peppermint Schnapps Liqueur
Chocolate-Dipped Marshmallows
1 cup chocolate melting chips or good-quality, chopped chocolate
Decorated toothpicks
Marshmallows
Christmas sprinkles
Bring milk and cream to a simmer in a heavy large saucepan. Reduce heat to medium-low. Add white chocolate and stir until smooth. Remove from heat and stir in schnapps. Transfer to a round chafing dish with a ladle for guests to serve themselves into individual mugs. Serve with chocolate-dipped marshmallows on the side.
To make Chocolate-Dipped Marshmallows: Melt chocolate in a small bowl in the microwave for 10-second increments; stir until smooth. Insert a toothpick into a marshmallow and swirl the bottom half in the chocolate. Immediately shake sprinkles over the chocolate. Place on wax paper until chocolate sets.
(A version of this cocktail appeared on Celebrations.com )