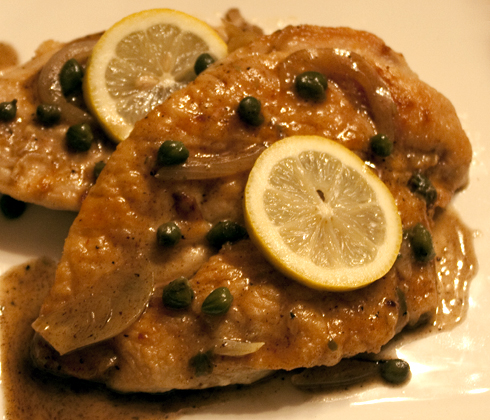 Veal Piccata is more commonly seen on restaurant menus. However, when trying to please a crowd, especially on the West coast, choose chicken. This delicious dish is prepared a little differently than the usual Piccata recipes to prevent the chicken from drying out and to make this a recipe that you can prepare (almost to completion) hours before serving.
12 boneless, skinless half chicken breasts
1 cup all purpose flour
1 teapoon salt
1/2 teaspoon pepper
Olive oil
Piccata Sauce
1/2 cup butter
1 tablespoon olive oil
3 shallots, cut into slivers
1/4 cup capers
1 cup Pinot Grigio
1/4 cup fresh lemon juice
Pound chicken breasts with a kitchen mallet to 1/4-inch thickness. Toss together flour, salt, and pepper, and place on a dinner plate. Coat each chicken breast in flour mixture.
Heat 1 tablespoon olive oil in a large skillet over high heat. Cook 4 – 5 chicken breasts at a time in skillet until flour coating is lightly browned, about 3-5 minutes on each side. Repeat process with remaining chicken breasts adding 1 tablespoon of oil for every batch. Place chicken in shingled rows in a 9×13-inch baking pan. Cover with plastic wrap and refrigerate.
Make Piccata Sauce immediately after chicken is browned. In same skillet, add 1/4 cup butter, oil, and shallots and cook over medium-high heat for 2 minutes. Add capers and wine and cook until wine reduces to 1/2, about 3 –5 minutes. Add lemon juice and cook for 2 minutes more. Remove from heat and swirl in remaining butter 1 tablespoon at a time. Drizzle sauce over chicken in baking pan. Cover and return to refrigerator until ready to use. Chicken may be prepared up to this point on the morning of the event and then fully cooked and served in the evening.
Preheat over to 325F (165C). Uncover pan of chicken and place in oven. Cook for about 15 minutes until chicken is no longer pink in the center. Arrange in a chafing dish or on a large platter and spoon Piccata Sauce from pan over top. Serve hot.
Makes 8 to 10 servings