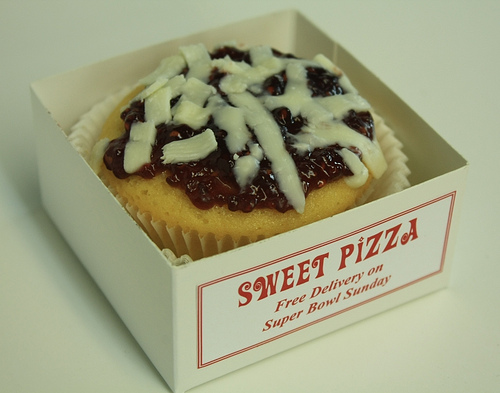 Pizza always tops the list at most football parties and certainly for a Super Bowl celebration. Serve up a pie that's hot, fresh, and sweet with this Pizza Cupcake that has a Raspberry and Coconut White Chocolate topping.
Steps:
Bake a batch of vanilla or yellow cupcakes.
Stir raspberry jam until smooth and spread it on top of the cupcakes.
I used a Lindt Coconut White Chocolate bar to make the "cheese" on top. Use a vegetable peeler to shave the chocolate into shreds. For best results, the chocolate must be at room temperature.
For the pizza delivery box, I purchased a small favor box at Michaels. I cut off the lid and trimmed the top so it wasn't too deep. Then, I created the label on my computer and slapped it on the front to look like the real deal!
(I originally designed this cupcake as a Contributing Editor and Lifestyle Party Expert for Celebrations.com.)