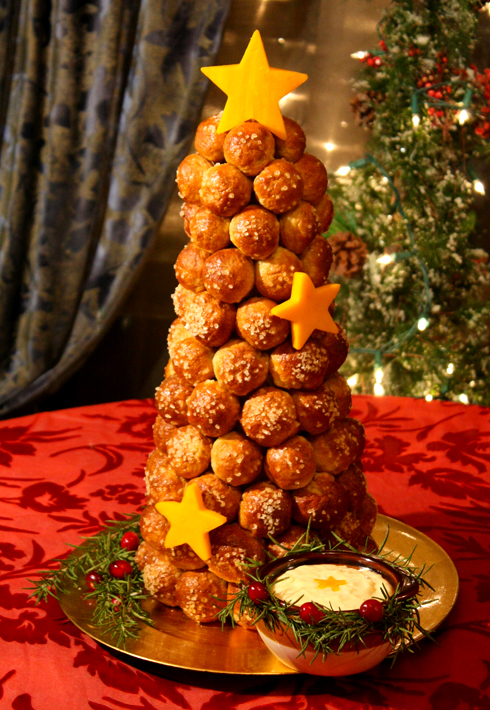 A local tavern is to blame for my current obsession with soft, fresh-baked pretzels accompanied by a creamy cheese dip. For a dazzling holiday appetizer, arrange these pretzel balls as a Christmas tree!

1 cup lukewarm water (110 degrees F)
3 tablespoons sugar
1 package active dry yeast (1 ½ teaspoons)
2 tablespoons margarine, melted
3 cups all-purpose flour
1/2 teaspoon salt
4 cups water
Baking soda
1 large egg, lightly beaten
Coarse salt
16-inch high x 8-inch wide base Styrofoam cone
Brown craft paper
Toothpicks
Cheddar cheese cut into star shapes
Combine water and 2 tablespoons sugar in 2-cup measuring cup. Sprinkle yeast on top and allow to sit for 10 minutes until yeast foams.
Add margarine into a large bowl. Pour in yeast mixture and stir to combine. Sift together flour, ½ teaspoon salt, and remaining 1 tablespoon sugar. Using a mixer or your hands, mix dry ingredients into wet ingredients in bowl until combined. Then, knead dough until it is smooth, elastic, and doesn't stick to your hands (use a little more flour if necessary). Lightly coat a clean bowl with vegetable oil. Place dough in bowl, cover with plastic wrap, and leave alone in a warm place for 1 hour until dough has doubled in size.
Preheat oven to 450 degrees. Line a cookie sheet with foil and coat with non-stick cooking spray.
Roll 1 teaspoon size pieces of dough into balls and place 2 inches apart on cookie sheet. Tip: For smooth tops, pinch the bottom of the dough ball until the top forms a smooth dome. Repeat process until cookie sheet is full; about 24 balls. Cover remaining dough with plastic.
Bring 4 cups of water and 1/4 cup baking soda to boil in a 2-quart saucepan. Using a slotted spoon, place 4 – 6 pretzel balls in boiling water for 30 seconds, then turn balls over for 30 seconds more. Remove balls from water and place back on sheet pan. Repeat process with remaining balls on pan. Brush balls with beaten egg and sprinkle coarse salt on each pretzel. Bake for 10 minutes until dark golden brown. Cool for 5 minutes, then transfer to wire rack. Repeat entire process with remaining dough.
To make Pretzel Ball Christmas Tree: Wrap Styrofoam base with brown craft paper or a paper bag; secure ends with tape. Insert toothpicks into base around bottom, then place pretzel balls on toothpicks. Decorate up the tree with balls and finish off cheese star ornaments and a larger cheese star on top! Make this tree the day of the party for best results.
Makes about 40 balls (Make 2 batches for a 16-inch high x 8-inch wide base Christmas Tree)
More Christmas Tree Creations!