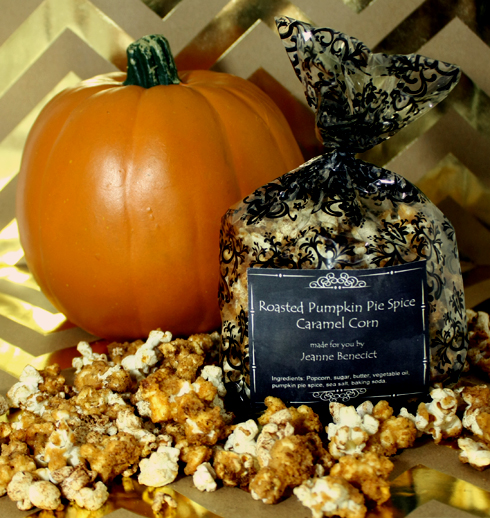 Who doesn't love caramel corn, and these recipes, my friends, are show-stoppers! Also, I'm a fanatic for a good gadget or novelty party food machine. So, I started researching kettle popcorn makers and found Nostalgia Electrics Tabletop Kettle Popcorn Maker. Not only does this vintage style machine look great on a party table (as pictured below), it's pretty amazing how much money you can save by buying a bag of kernels and popping them the old-fashioned way vs. the pre-packaged microwave method. My bounty of popcorn inspired me to create some yummy recipes, which are perfect for the holiday season whether you are snacking while watching movies or giving out delicious homemade gifts!
Roasted Pumpkin Pie Spice Caramel Corn
10 cups popcorn (1/2 cup unpopped kernels)
1 tablespoon pumpkin pie spice
1/2 teaspoon salt
2 cups granulated sugar
1/2 cup water
1/2 cup butter
1/2 teaspoon baking soda
Preheat oven to 250F. Line 2 baking sheets with foil and lightly coat with non-stick cooking spray.
Place popcorn in a large heat-proof bowl; be sure to pick out any unpopped kernels. Sprinkle pumpkin pie spice and salt over top.
Add sugar and water into a medium saucepan; stir to combine water. Add butter and heat on medium-high, stirring occasionally, until the mixture caramelizes, which will take about 5-7 minutes. Remove from heat and stir in baking soda, then pour over popcorn in bowl, while tossing with a buttered spoon to coat.
Spread caramel corn onto prepared baking sheets and bake for 30 minutes, tossing the caramel corn once during the cooking process to fully coat the popcorn. Remove from the oven and cool, then enjoy!
Note: A lot of caramel corn recipes call for brown sugar and/or corn syrup. After much experimentation, I found that these ingredients made the caramel corn mushy after a day. Not a big deal if you are eating it right away, but if you are making many batches to package as gifts, it matters big time!